China Wants Iran's Experience in Anti-Narcotics Campaigns
TEHRAN (Tasnim) – Director of Chinese foreign ministry for external security on Thursday hailed Iran's achievements in its anti-drugs campaign and asked relevant Iranian officials to share their experience in this field with their Chinese counterparts.
November, 21, 2013 - 17:28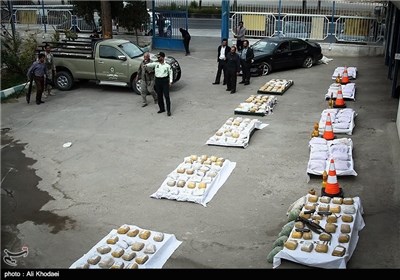 The Chinese diplomat made the demand while visiting an exhibition of the Iranian ant-narcotics police, noting that China has had a good level of cooperation with Iran in various fields in the past, including in anti-terrorism campaign.
"But in this visit we want to come up with a mechanism to fight against both terrorism and narcotic drugs, and deeper relations with Iran," he said.
Referring to his Thursday morning meeting with head of Iran's anti-narcotics police and consultations with him, the Chinese diplomat said, "Our Iranian friend announced his readiness for boosting cooperation with China, and I would inform the Chinese Public Security Ministry about the matter.
The Chinese deputy foreign minister is heading a delegation comprised of officials from the Chinese Foreign Ministry, Interior Ministry and Public Security Ministry.
Iran which shares a 900-kilometer-plus border with Afghanistan, which accounts for over 90 percent of global opium production, is both a victim of the drugs trade and the main bulwark against drug trafficking from Afghanistan to many parts of the world.
Iran is on a major transit route for drugs being smuggled from Afghanistan to Europe, the Middle East and Africa, and the country's war on drug-traffickers has claimed the lives of nearly 4,000 Iranian police forces over the past 34 years.
According to the UN Office on Drugs and Crime, Iran is netting eight times more opium and three times more heroin than all other countries in the world combined.
And there is not any releif in sight from this forbidding task for Iran, as according to the latest UN report both poppy cultivation and opium production are on the rise in Iran's eastern neighbor.
The report said the total area planted with poppies rose from 154,000 to 209,000 hectares, while potential production rose by 49% to 5,500 tons, more than the current global demand. But production was lower than the 2007 high of 7,400 tons as bad weather in southern Afghanistan affected crops.
Poppy cultivation and opium production in Afghanistan have been on the rise since the US-led occupation of 2001.