President: Iran's Enrichment Right Stipulated in N. Deal
TEHRAN (Tasnim) – The recent nuclear deal between Tehran and the six major world powers explicitly recognizes Iran's right to enrich uranium inside the country, President Hassan Rouhani said on Sunday.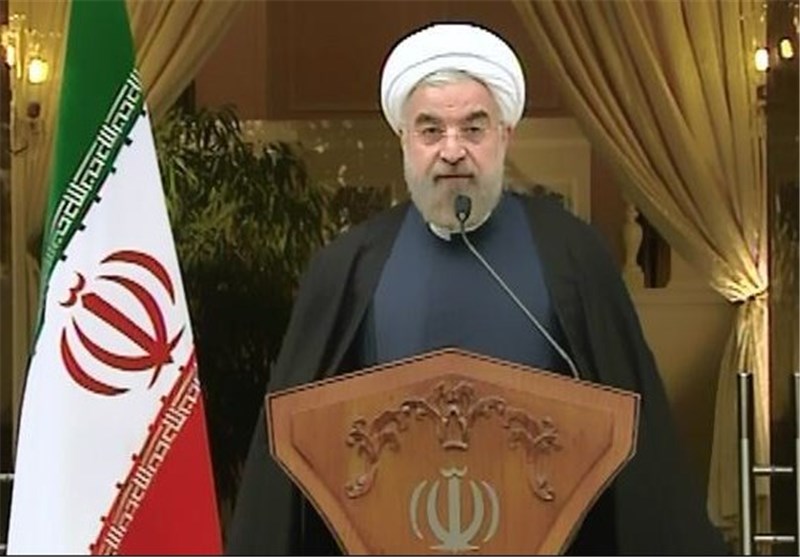 Speaking in a press conference here in Tehran on Sunday, Iran's President Hassan Rouhani expressed his gratitude to the country's negotiators for their considerable efforts in the intensive nuclear talks in Geneva that resulted in an interim deal between Tehran and the Sextet.
As regards text of the deal, Rouhani said, "It is explicitly stipulated in the text of the deal that Iran will carry out its enrichment (activities)."
Rouhani said Iran's enrichment activities would continue unabated, adding that under the interim deal, the Islamic Republic will go on with the nuclear activities at Natanz, Fordo, Arak, Isfahan and Bandar Abbas facilities.
He also noted that a remarkable achievement of the Geneva talks was the recognition of Iran's inalienable nuclear rights by the world powers, namely the five permanent UN Security Council members plus Germany.
Rouhani asserted that Iran, as a signatory to the Non-Proliferation Treaty (NPT), has "inherently" the right to uranium enrichment, but added that acknowledgment of Iran's inalienable right by the major world powers was politically valuable.
The president said another achievement of the nuclear deal was the world powers' pledge to lift the entire anti-Iran sanctions after a series of comprehensive nuclear negotiations, which he said are to begin immediately.
According to Rouhani, such removal would include the whole bans, including those imposed by the UN and the unilateral sanctions imposed by the European Union and the US.
His comment came after Iran and the six major world powers reached a six-month deal early on Sunday on how to resolve disputes over Tehran's nuclear program after more than 4 days of intensive talks in the Swiss city of Geneva.

Aimed at ending a decade-long standoff, the agreement between Iran and the Group 5+1 (the six major world powers also known as P5+1) was clinched after days of tough negotiations in Switzerland.
The agreement paves the way for final resolution of the West's decade-old dispute with Iran over its nuclear energy program.