Rouhani Says Iran, Turkey Want Cessation of Hostilities in Syria
TEHRAN (Tasnim) – Iran and Turkey favor immediate end to hostilities in Syria, Iran's President Hassan Rouhani said in meeting with visiting Turkish Foreign Minister Ahmet Davutoglu in Tehran, and called for serious talks among Syrian conflicting parties.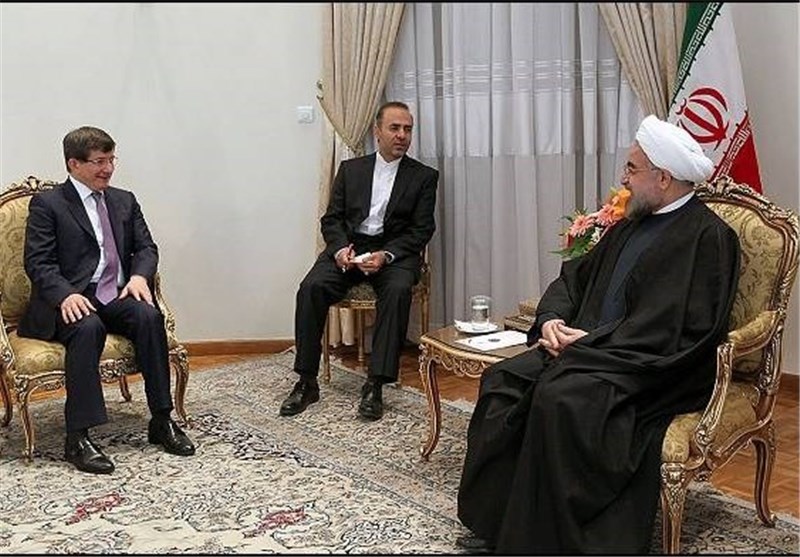 "Both countries share common views on an end to the civil war in Syria, return of the refugees, establishment of security, expulsion of terrorists (from the Syrian soil), and on a peaceful process to resolve the problems in Syria," President Hassan Rouhani said Wednesday.
"Syria problem has no military solution and the country's crisis should be ended through serious negotiations among oppositions and the Syrian government," Rouhani added.
Iran, one of Syria's major supporters, believes that intervention of foreign governments has only worsened the crisis and that arming the rebels further inflames the tensions, and has called on all Syrian sides to sit together to find a negotiated settlement for a conflict that can rip apart the social and economic fabric of the Syrian society.
As regards bilateral relations between the two neighboring countries, President Rouhani said, "Iran and Ankara must raise the level of their trade exchanges to an acceptable level in the year 2014".
President Rouhani said grounds should be prepared for comprehensive expansion of bilateral relations in economic, cultural and political fields, adding that Iran welcomes cooperation with Turkey in joint project in different fields, including energy and petrochemical projects.
The Turkish foreign minister, too, in the meeting expressed satisfaction over Iran's nuclear deal with the world powers, arguing that the move will lead to expansion of Iran's relations with every country, particularly its neighbors.
Davutoglu also said that the two countries' relations are based on solidarity and honesty, and voiced Ankara's readiness of comprehensive expansion of ties with Iran.
Iran, which owns the world's largest natural gas reserves, is Turkey's second biggest gas supplier after Russia. Turkey uses a significant portion of its imported Iranian natural gas to generate electricity.
The volume of Iran-Turkey annual trade exchanges reached roughly $16 billion in 2011, and soared past $22 billion by the end of 2012.