IRGC Commander Stresses Iran's Military Might
TEHRAN (Tasnim) – Commander of the Islamic Revolution Guards Corps (IRGC) said on Thursday Iran enjoys high missile and military power, adding that the power has forced the enemies to opt for the diplomatic path with Iran.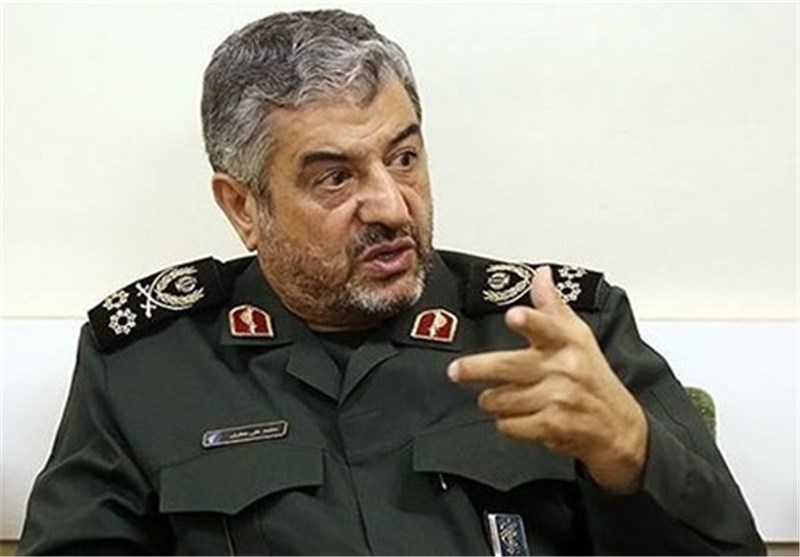 "The factor that led our enemies to come to the negotiating table was our security and defense capabilities, which I hope will be safeguarded (during the talks)," Major General Mohammad Ali Jafari said on the sidelines of a conference here in Tehran today.
Elaborating on Iran's defense capabilities, Jafari said as a commander who has spent long time on military and defense issues, he could ensure that Iran's missile defense capabilities are at a "very high level", and added that the missile capability is one of Iran's main deterrent factors.
He added that Iranian armed forces have adopted asymmetric tactics for using the missile capability, and the enemies lack accurate intelligence about the country's missile sites and power.
Jafari further noted that Iran has stationed its missiles all over the country and, thus, enemies cannot hit the capability even with thousands of bombs.
As regards other capabilities, the IRGC commander pointed to Iran's efforts to manufacture local version of the US RQ-170 stealth drone and said that research works about the drone are in final stages and expressed the hope tha the country could put the Unmanned Aerial Vehicle into operation.
Earlier, a senior Iranian military commander announced that Iran has managed to reverse engineer most parts of its version of the US RQ-170 Sentinel stealth drone.
"Most of the works regarding the manufacturing of Iranian (version) of RQ-170 drone have been done," Lieutenant Commander of the IRGC Brigadier General Hossein Salami told reporters on Tuesday.
The commander, however, said that he could not tell exactly when the drone would be unveiled. "We are seeking to reach final result soon," he noted.
He also talked about the development of a drone with flight endurance of 30 hours whose range can be increased with high-speed engines. "Recently, we have also gained the capability of mounting [on drones] bombs and guided rockets which have pinpoint accuracy," he added.
On December 4, 2011, an American Lockheed Martin RQ-170 sentinel unmanned aerial vehicle (UAV) was captured by Iranian forces near the city of Kashmar in northeastern Iran.
The drone was brought down by the Iranian Armed Forces' electronic warfare unit which commandeered the aircraft and safely landed it.
Earlier Iran announced it had completed decoding the surveillance data and software extracted from the Central Intelligence Agency (CIA) drone.
After capturing the aircraft, Iran announced that it intended to carry out reverse engineering on the captured RQ-170 Sentinel stealth aircraft, which is similar in design to a US Air Force B-2 stealth bomber.