Ukraine Protesters Seize Justice Ministry as Anger Spreads East
TEHRAN (Tasnim) - Anti-government activists in Ukraine seized the justice ministry in Kiev all the while the protests continued to spread throughout the country, including to the east where President Viktor Yanukovich was once seen as having strong support.
January, 27, 2014 - 15:26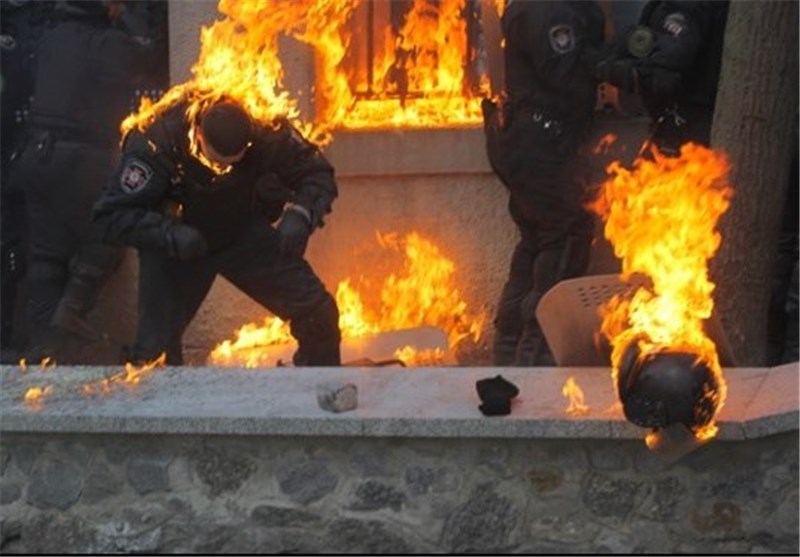 AFP reported that dozens of Ukrainian protesters on seized the ministry by smashing its windows, after which they began to erect barricades outside the building with rubbish containers.
The unrest was also said to be spreading far outside of the capital with local media reporting that the headquarters of Yanukovich-appointed governors in Dniepropetrovsk, Sumy and Zaporizhia were under siege, along with regional offices in Transcarpathia in western Ukraine.
Opposition supporters have already occupied local government offices in 10 cities, meaning that a total of 14 out of Ukraine's 25 provinces have effectively slipped from Yanukovich's central government control.
The standoffs show the divide between a majority Ukrainian-speaking west of Ukraine and a mostly Russian-speaking east has not prevented widespread disillusionment against Yanukovich even in eastern Ukraine.
The protests started out in Kiev after Yanukovich abruptly decided to turn his back on an EU agreement but have snowballed to reflect a variety of grievances over economic and social hardship, as well as a desire for greater local autonomy.
There have now been rallies in virtually every major regional centre in the former Soviet republic, which measures about twice the size of Germany, with young activists often imitating the protest action in Kiev.
While demonstrations are frequent in the capital, confrontations of this type in many local centres are unprecedented in Ukraine's post-independence history after the collapse of the Soviet Union in 1991.
Eight police officers and two protesters were injured during clashes in Dniepropetrovsk and 14 activists were arrested, the Interfax news agency reported, citing police and local hospital sources.
Thousands of protesters also massed outside the regional administration in Zaporizhya, demanding to be allowed access but were repelled by hundreds of riot police throwing stun grenades, television images showed.