Iranian, Turkish Ministers Confer on Mutual Cooperation
TEHRAN (Tasnim) – Iranian Minister of Communications and Information Technology Mahmoud Vaezi and Turkish Development Minister Cevdet Yilmaz in a meeting in Tehran explored avenues for the further expansion of bilateral relations between the two neighboring countries.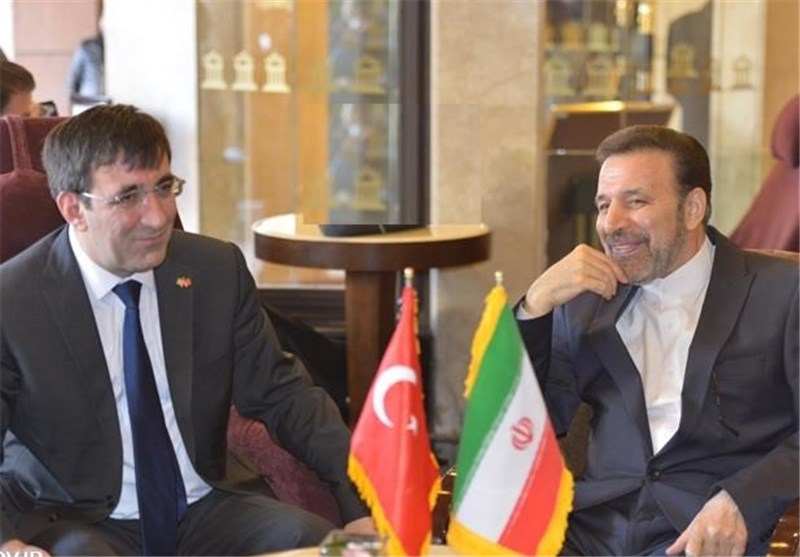 In the meeting held on the sidelines of the Turkish Prime Minister Recep Tayyip Erdogan's official visit to Iran, Mahmoud Vaezi and his Turkish guest expressed satisfaction with the growing trend of bilateral relations in various economic, cultural, and political fields.
They also agreed on the meeting of Iran-Turkey Joint Economic Cooperation Commission in the Iranian capital, Tehran, prior to President Hassan Rouhani's upcoming visit to Turkey.
In a separate meeting with the Turkish Economy Minister Nihat Zeybekci, Vaezi also stressed that value of annual trade ties between the two sides should reach 30 billion dollar.
Zaeybekci also invited Vaezi to visit Turkey to pursue the implementation of the agreements reached in the meeting of the two countries' Joint Economic Commission.
Earlier, Turkish Prime Minister Recep Tayyip Erdogan said on Wednesday in Tehran that he expects 2014 to mark a rebirth of bilateral relations between Iran and Turkey.
Speaking at a joint press conference with Iran's First Vice-President Eshaq Jahangiri, Erdogan hailed what he called the rebirth of Iran-Turkey ties in 2014, hoping that the current year would be a prelude to a remarkable growth of trade exchange between the two neighbors.
He said the goal is to hike up the volume of trade between Iran and Turkey to $30 billion by 2015, stressing that the both sides have the political determination to reach that objective.
Later, Iran's President Hassan Rouhani underlined in a meeting with Erdogan that Iran and Turkey have similar views on major regional issues like the need to fight terrorism and extremism.
He said the development of collaborations between Iran and Turkey as two powerful countries in the region "will thwart terrorist activities."
Erdogan, for his part, highlighted the strong historic bond between Iran and Turkey.
"It is our duty to enhance fraternity between our two nations as it would pave the way for boosting political, economic and cultural relations between the two countries," he stated.
Erdogan described Iran and Turkey as the most powerful countries in the region, adding "our aim is to develop all-out relations with Iran."
Pointing to mutual economic ties, the Turkish prime minister said the volume of annual trade between the two countries is planned to reach $30 billion by 2015.
That was Erdogan's first trip to Tehran after the Iranian president took office in August 2013.
Observers believe that the Turkish premier's visit to Iran marks a milestone in regional issues.
Commentators argue that Erdogan's trip will have great significance for the region, as Tehran-Ankara cooperation will have a major impact on the Syrian crisis.