Freed Tymoshenko Addresses Ukraine Protesters
TEHRAN (Tasnim) - Hours after her release from prison, former Ukrainian prime minister Yulia Tymoshenko appeared before protesters in Kiev's Independence Square, praising the demonstrators killed in violence this week and urging the crowds to keep occupying the square
February, 23, 2014 - 12:02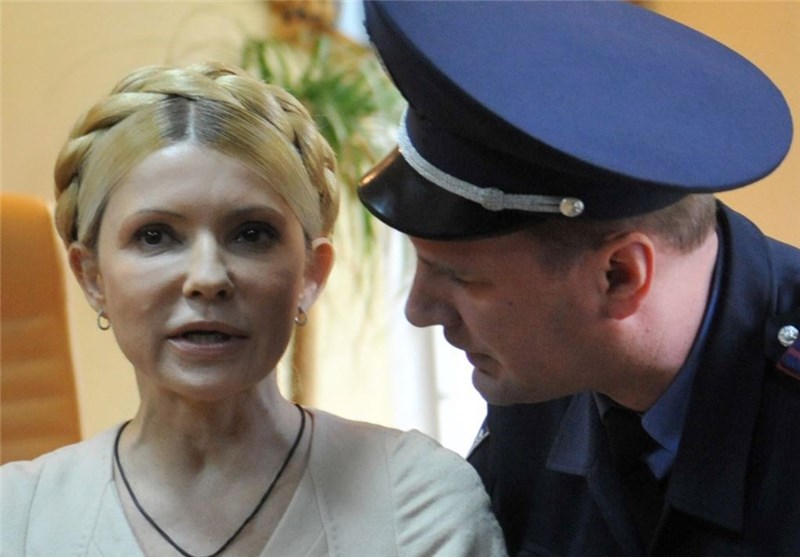 Tymoshenko's speech to about 50,000 people, made from a wheelchair because of the severe back problems she suffered in two and a half years of imprisonment, was the latest development in the country's fast-moving political crisis, AP reported.
Tymoshenko, who appeared close to exhaustion, said: "You are heroes, you are the best thing in Ukraine!
"In no case do you have the right to leave the Maidan (Independence Square) until you have concluded everything that you planned to do."
Earlier on Saturday, parliament voted to remove President Viktor Yanukovich from office, hours after he abandoned his Kiev office to protesters and denounced what he described as a coup.
The impeachment, which was backed by 328 of the 447 deputies, argues that Yanukovich abused his powers.
The Ukrainian parliament, which decisively abandoned Yanukovich after loyalists defected, declared on Saturday the president constitutionally unable to carry out his duties and set an early election for May 25.
Deputies in the assembly stood, applauded and sang the national anthem.
In a television interview shortly beforehand, which the station said was conducted in the eastern city of Kharkiv, Yanukovich said he would not resign or leave the country, and called decisions by parliament "illegal".
"The events witnessed by our country and the whole world are an example of a coup d'etat," he said, comparing it to the rise of the Nazis to power in Germany in the 1930s.
He said he had come under fire. "My car was shot at. I am not afraid. I feel sorrow for my country," he told UBR television.
Despite his defiance, the dismantling of his authority seemed all but complete with his cabinet promising a transition to a new government, the police declaring themselves behind the protesters and his jailed arch adversary Yulia Tymoshenko freed.
Tymoshenko was freed earlier on Saturday from the hospital where she had been held under prison guard for most of the time since she was convicted in 2011.