Iran's FM Stresses Homegrown Solution to Syrian Crisis
TEHRAN (Tasnim) - Iranian Foreign Minister Mohammad Javad Zarif reiterated that Syrians are the only side who can shape their political destiny, and noted that regional states can also contribute to the settlement of the prolonged crisis in the Arab country.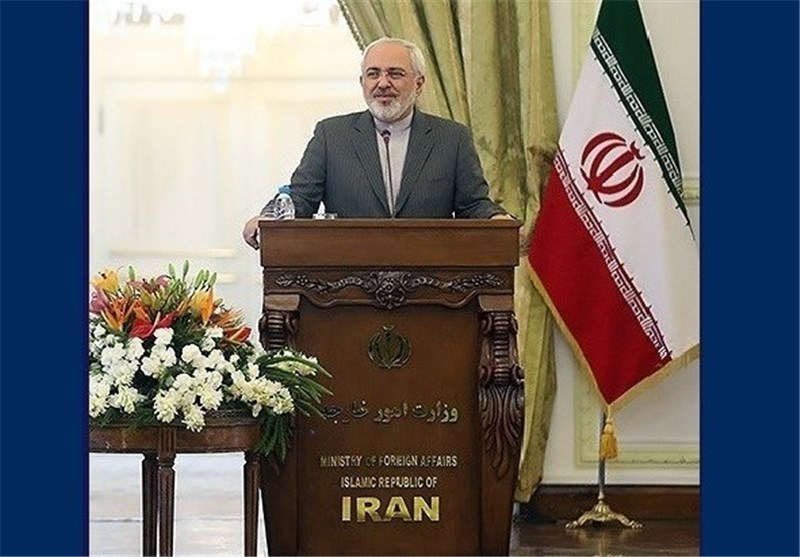 "This is only the Syrian nation that can have a role and bearing on the resolution of the ongoing crisis in Syria," Zarif said at a joint press conference with his Qatari counterpart Khalid bin Muhammad al-Atiyah here in Tehran on Wednesday.
The Iranian diplomat then alluded to the role of the regional countries in winding down the grisly war in Syria, and added, "The regional countries should also do their utmost to settle the ongoing Syrian crisis, so that the problem would be resolved in the best way."
Zarif once again firmly rejected the idea of military solution to the crisis in Syria, and stressed, "The only solution to the current Syrian crisis is a political one, and one cannot envisage any other solution to end the war in Syria, including a military (solution)."
The Qatari minister, for his part, elaborated on Doha's views on the crisis in Syria, explaining that there remains some division between Iran and Qatar regarding the issue.
He said Qatar does not consider the Syrian rebels as rebels, but revolutionary people.
However, Atiyah added, Iran and Qatar both agree on the important issue that the Syria crisis has to be settled through political approaches alone.
Syria's war that started in 2011 has killed over 130,000 people so far and forced more than 2 million to flee abroad. Another 4 million have been displaced inside the country.
Iranian officials have on different occasions insisted that a political approach would be the sole solution to the three-year-old crisis in Syria, saying that campaign against terrorism should be top on the agenda of any regional or international conference on Syria.