Iran, Russia to Meet in Greco-Roman World Cup Final
TEHRAN (Tasnim) - Iran and Russia blew past all four of their opponents at the Hafte-Tir Hall in Tehran. The two teams will face in the 2014 FILA Greco-Roman World Cup final later today.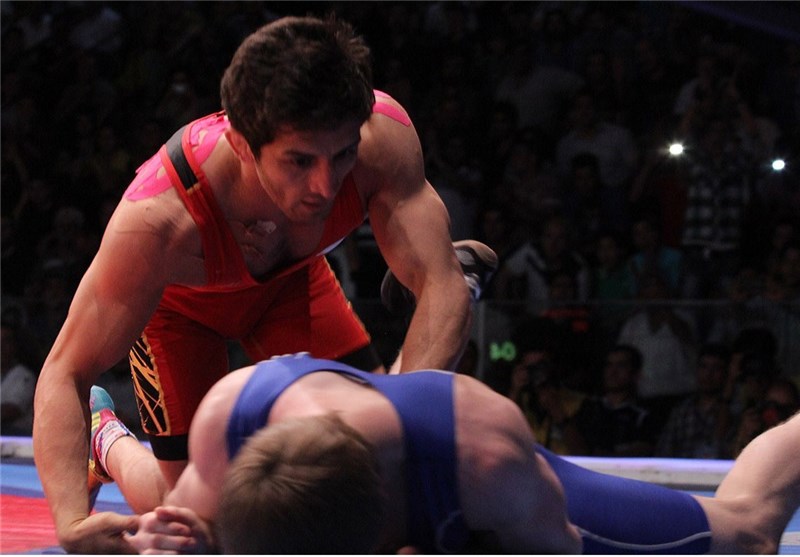 The match will be held at 5:00 pm local time on Friday.
On Friday morning, the Iranian team defeated Armenia 5-3 in Group B. Iran had already defeated Azerbaijan, South Korea and Finland.
Russia also defeated Hungary, Turkey, Kazakhstan and USA in Group A.
"Our wrestlers performed well, but we will have a difficult match in the final. Russia is world champion now and we have never won title in world championships," said Iran coach Nourbakhsh. "It will be a close match, but we hope they (Iranian wrestlers) wrestle well and will be supported and motivated by our fans."
Iran (IRI) df. Armenia (ARM), 5-3
59kg - Hamid Soryan (IRI) df. Narek Khachatryan(ARM), 9-0
66kg - Gevorg Sahakyan (ARM) df. Afshin Byabangard (IRI), 4-2
71kg - Rafayel Aleksanyan (ARM) df. Broomand Aslan (IRI), 6-5
75kg - Karapet Chalyan (ARM) df. Hadi Alizadeh Pournia (IRI), 4-1
80kg - Mehdi Mohammadi (IRI) df. Rafik Manukyan (ARM), 9-0
85kg - Davood Akhbari (IRI) df. Hrach Hovannisyan (ARM) by FALL
98kg - Davood Abedinzadeh (IRI) df. Movses ADAMYAN (ARM), 6-0
130kg - Behnam Mehdizadeh (IRI) df. Vachik Yeghiazarya(ARM), 7-1
Iran (IRI) df. Finland (FIN), 8-0
59kg- Hamid Soryan (IRI) df. Jussi- Pekka NIEMISTO (FIN) by TF, 8-0
66kg- Omid Noroozi (IRI) df. Tero VALIMAKI (FIN) by TF, 8-0
71kg- Broomand Aslan (IRI) v. Henri PALOMAKI (FIN), 6-2
75kg- Farshad Alizadeh (IRI) v. No wrestler (FIN) via forfeit
80kg- Habibollah Akhlaghi (IRI) v. Aleksandr KAZAKEVIC (LTU), 6-0
85kg- Davood Akhbari (IRI) v. Antti HAKALA (FIN), 7-0
98kg- Mehdi Aliyari (IRI) v. Timo KALLIO (FIN), 3-1
130kg- Behnam Mehdizadeh (IRI) v. Mindaugas MIZGAITIS (LTU) 6-0
Iran (IRI) df. Korea (KOR), 7-1
59kg - Mohammad Nourbakhsh (IRI) df. Choi Gi-uk (KOR) by TF, 10-1
66kg - Afshin Byabangard (IRI) df. Ryu Han-Su (KOR), 5-1
71kg - Saeed Abdevali (IRI) df. Jung Ji-Hyun (KOR), 4-0
75kg - Kim Hyeon-Woo (KOR) df. Hadi Alizadeh Pournia (IRI), 9-1
80kg - Habibollah Akhlaghi (IRI) df. KIM June- Hyoung (KOR), 4-0
85kg - Taleb Nematpour (IRI) df. No wrestler (KOR) by forfeit
98kg - Davoud Abedinzadeh (IRI) df. Gu Hak-Bon (KOR) by TF, 9-0
130kg - Bashir Babajanzadeh (IRI) df. Kim Yong-Min (KOR), 8-2
Iran (IRI) df. Azerbaijan (AZE), 8-0
59kg - Hamid Soryan (IRI) df. Taleh Mammadov (AZE) by criteria, 1-1
66kg - Omid Noroozi (IRI) df. Azad Aliyev (AZE), 7-6
71kg - Saeed Abdevali (IRI) df. Rustam Aliyev (AZE) by TF, 9-0
75kg - Farshad Alizadeh (IRI) df. Elvin Mursaliyev (AZE), 7-1
80kg - Habibollah Akhlaghi (IRI) df. Emin Ahmadov(AZE), 5-0
85kg - Taleb Nematpour (IRI) df. Shahriyar Mammadov (AZE), 3-1
98kg - Mehdi Aliyari (IRI) df. Araz Hasanov(AZE), 2-0
130kg - Bashir Babajanzadeh (IRI) df. Valera Rodriguez(AZE), 2-0