Leader Refutes Iran-US Interaction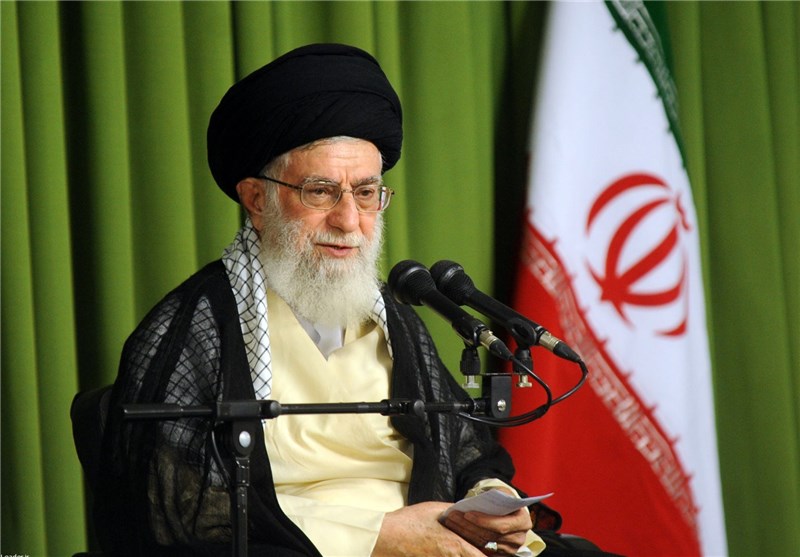 TEHRAN (Tasnim) – Supreme Leader of the Islamic Revolution Ayatollah Seyed Ali Khamenei on Wednesday dismissed as "useless" the interaction between Iran and the US, and stressed that sitting around the table with Americans will have damaging effects.
"Relations with the US and negotiating with that country, except in specific cases, will have no benefit to the Islamic Republic, but rather will be harmful," the Leader said, addressing a meeting with Iran's foreign minister, ambassadors and heads of diplomatic missions to the foreign countries, held in Tehran on Wednesday.
Ayatollah Khamenei explained that the nuclear negotiations between Iran and the sextet of world powers over the past year caused a series of talks between Iranian diplomats and those of the US, which is also a member of the Group 5+1 (the five permanent UN Security Council members plus Germany).
The Leader underlined that such meetings with the American negotiators within the framework of nuclear talks once again proved that negotiating with the US "will not help anything, contrary to what some had assumed."
"Not only did these contacts (with the US) fail to yield results, but also the tone of Americans became harsher and more insulting," Imam Khamenei noted, referring to Washington's decision to ramp up sanctions against Tehran as a testimony to futility of the talks.
The Supreme Leader, however, made it clear that Iran will not bow out of the nuclear talks, but stressed that such a "precious experience" proved that "interaction and talks with Americans have absolutely no impact on reducing their hostility and are useless."
As regards the harmful effects of negotiations between Tehran and Washington, Ayatollah Khamenei said that talks may make the world's public opinion accuse Iran of "hesitation" in its stance towards the US.
"Through their extensive propaganda campaign, the Westerners will represent the Islamic Republic as passive and duplicitous," the Supreme Leader said of the adverse consequences of negotiations with the US.
Iran and the Group 5+1 (Russia, China, the US, Britain, France and Germany) are engaged in talks over Tehran's peaceful nuclear program and the Iranian team of nuclear negotiators have held several direct meetings with Americans in the course of talks.
However, the US officials have not shown any sign of softening their position on Iran, and have continuously spoken of "military action" as a viable option on the table.