Iran's Enrichment Capacity Must Be Maintained: Senior Cleric
TEHRAN (Tasnim) – Tehran's Provisional Friday Prayers Leader Ayatollah Ahmad Khatami underlined that Iran's nuclear research and the country's uranium enrichment capacity are among the red lines in the nuclear negotiations with world powers.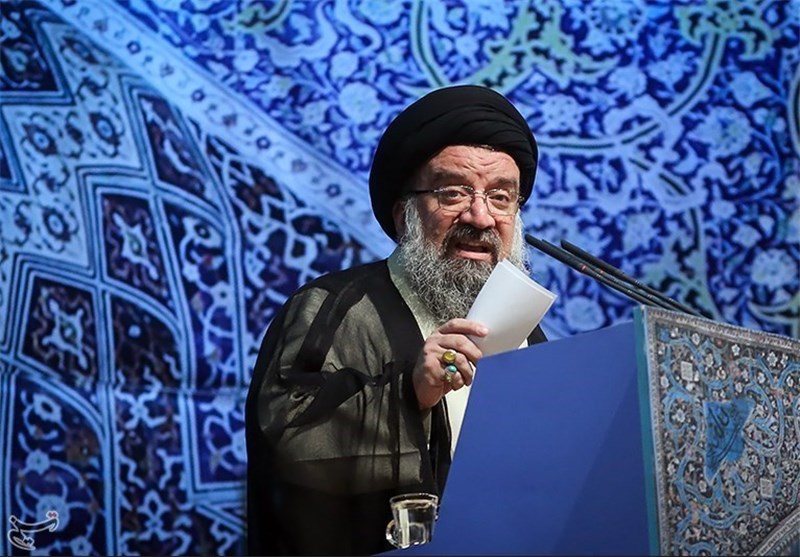 Addressing a large congregation of worshippers here in Tehran on Friday, Ayatollah Khatami said Iranian nuclear scientists should continue their research and nuclear facilities such as Fordo and Natanz should maintain their uranium enrichment capacity.
He referred to the nuclear talks between Iran and the Group 5+1 (the five permanent UN Security Council members plus Germany) over Tehran's peaceful nuclear energy program and said the talks should lead to the removal of the sanctions imposed on Iran.
Nuclear negotiators representing Iran and the Group 5+1 (also known as the P5+1 or E3+3) held the latest round of talks on Tehran's civilian nuclear program in New York from September 18 to September 26.
The negotiations were wrapped up without making any tangible progress.

Iranian Deputy Foreign Minister Abbas Araqchi later said that the nuclear talks with the G5+1 will resume in a European city by mid-October.
Elsewhere in his Friday prayers sermon, Ayatollah Khatami referred to the US-led coalition against the so-called Islamic State in Iraq and the Levant (ISIL) and described the coalition as "deceitful and hypocritical".
He said the coalition is seeking not to confront ISIL but to overthrow the legitimate government of Syria and to undermine Iraq's independence and sovereignty.
The senior Iranian cleric stressed that the coalition's attacks on sites in Iraq and Syria are obvious acts of aggression on the two countries.
Since September 22, the United States and its allies have been conducting airstrikes against ISIL inside Syria without authorization from Damascus or a UN mandate.