Iraqi Party Asks for Immediate Freedom of Bahraini Cleric
TEHRAN (Tasnim) – The National Iraqi Alliance called "a dangerous measure" the arrest of the Bahraini opposition figure, Sheikh Ali Salman, and called on the Al Khalifa regime to "immediately" release the cleric.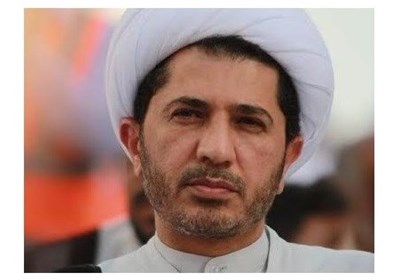 In a statement on Thursday, the Shiite alliance emphasized that the arrest of Sheikh Salman would worsen the recent political conditions in Bahrain.
The alliance said it regards such measures against popular moderate leaders as unwise moves that endangers the country's national interests and social coexistence.
It also asked the Bahraini regime to reform the political structure of the Persian Gulf country and meet the public demands, al-Sumaria TV reported.
Meantime, in a similar statement Former Iraqi Prime Minister Nouri al-Maliki condemned on Thursday the arrest of Bahraini opposition leader, and warned that the arrest would trigger ethnic rift.
Al-Maliki, whose party is one of the main parties in National Iraqi Alliance, also asked the Al-Wefaq Society and Bahraini scholars not to give up their legitimate demands for civil rights, Bahrain Mirror news website reported.
Al Khalifa authorities detained Sheikh Salman on Sunday after long hours of investigations in criminal investigations building.
According to Sheikh Salman's lawyer, he is charged with "provoking hatred for the ruling regime and attending illegal demonstrations".
Following the massive anti-regime protests held last Friday, Bahrain's Interior Ministry had ordered Salman to appear before police investigators on Sunday without providing any explanation as to why the summons was issued.