Iran against Foreign Interference in Yemen: Spokeswoman
TEHRAN (Tasnim) – Iranian Foreign Ministry Spokeswoman Marziyeh Afkham on Wednesday voiced Tehran's steadfast opposition to foreign interference in Yemen, saying that the conflicts should be settled domestically.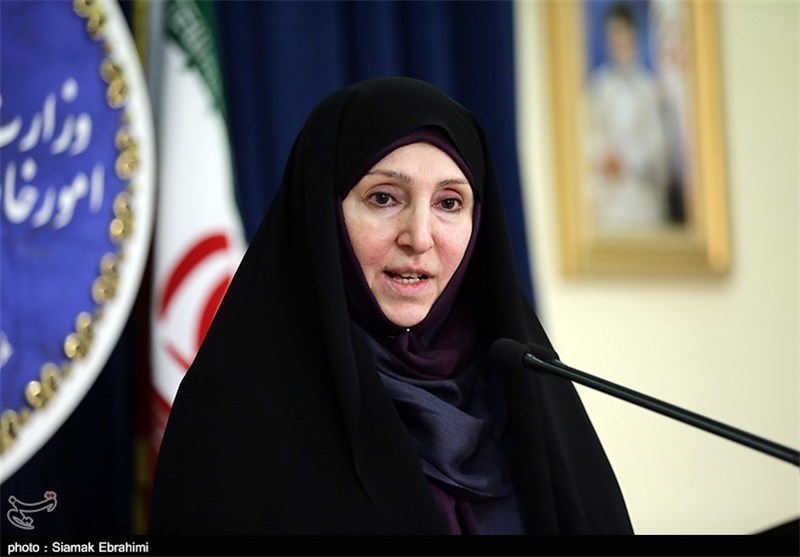 Speaking to reporters in her weekly press conference in Tehran, Afkham made it clear that Iran is against "foreign interference" in Yemen, including attempts to disintegrate the Arab country.
"Tehran supports dialogue and convergence (among Yemenis) to settle the crisis in Yemen," she said, adding that Iran wants an "integrated and powerful" Yemen that has good relations with its neighbors.
She further noted that "domestic capacities" and Yemeni parties should be employed to resolve the problems in the country.
Iran will support any deal agreed upon by all political sides in Yemen, she added.
Afkham also pointed to Tehran's humanitarian assistance to Sana'a, saying, "This is not the first time Iran is sending humanitarian aid to Yemen."
"Yemeni people need access to food and medical aid," she said, and added that part of these needs has been met since a Memorandum of Understanding (MoU) on air transport between Tehran and Sana'a was put into practice.
In similar remarks in February, Iranian Deputy Foreign Minister for Arab and African Affairs Hossein Amir Abdollahian reiterated Tehran's continued support for national unity in Yemen, and called for effective dialogue among Yemeni parties.
Earlier in February, the United Nations Security Council (UNSC) approved a resolution drafted on the conflict in Yemen, calling for parties involved to negotiate an end to the crisis.
In the past weeks, many western countries including Italy, France, Britain, Germany, and the US as well as Japan and Arab countries such as Saudi Arabia and the United Arab Emirates (UAE), have closed their embassies and evacuated all their diplomatic staff in Sana'a over security concerns in the crisis-hit country.
In September 2014, Ansarullah forces gained control of Sana'a, following a four-day battle with army which is still viewed as loyal to the former dictator, Ali Abdullah Saleh.
The Ansarullah revolutionaries say the Yemeni government has been incapable of properly running the affairs of the country and providing security. The movement has established a transitional council to govern the country until a new government is elected.