Leader's Adviser, Hezbollah Chief Meet in Beirut
TEHRAN (Tasnim) – Ali Akbar Velayati, an international adviser to Supreme Leader of the Islamic Revolution, met with the Secretary General of the Lebanese Hezbollah Resistance Movement in the Arab country's capital of Beirut.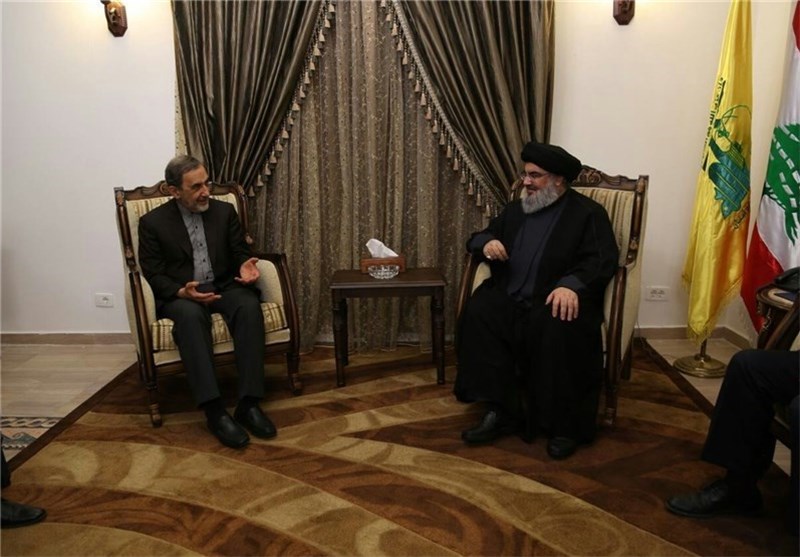 In this meeting, Velayati conferred with Seyed Hassan Nasrallah on the recent victories of the resistance movement, the latest regional developments, and the future perspective of the fight against terrorism.
He underlined that Tehran will not give up resistance in the fight against terrorism and extremist groups.
"The field developments in the region and the recent victories are the result of the fortitude and resistance the Islamic Republic of Iran, Hezbollah, the Syrian nation and government, Lebanon, Iraq, and Russia have shown," Velayati said at the meeting.
Certainly, the enemy's plots will be foiled and the crimes committed by extremist and terrorist groups will be ceased, the Iranian adviser predicted, expressing the hope for more victories and achievements for the Resistance movement.
Nasrallah, for his part, briefed Velayati on the latest field developments and discussed various issues with the Iranian adviser.
Velayati is accompanied by Iran's Deputy Foreign Minister for Arab and African Affairs Hossein Amir Abdollahian in this official visit to the Arab country.
Before arriving in Lebanon, he had visited the Syrian capital on Sunday and held talks with President Bashar al-Assad and a number of other senior officials of the Arab country.
Velayati, who is also head of the Strategic Research Center of Iran's Expediency Council, during his trip to Damascus reiterated Tehran's full support for the Syrian government, saying that the Islamic Republic will continue to stand by and support the Syrian nation.
"The Syrian-Iranian relations are brotherly and tight relations…It is the duty of Iran to continue standing by the friendly state and its President Bashar Assad and support Syria in everything in the conditions of the world war against Syria declared by the West and a number of regional states," Velayati told reporters upon his arrival in Damascus on Sunday.