Syrian Army Advances towards Terrorist-Held Areas, Killing 100 Militants
December, 12, 2015 - 15:33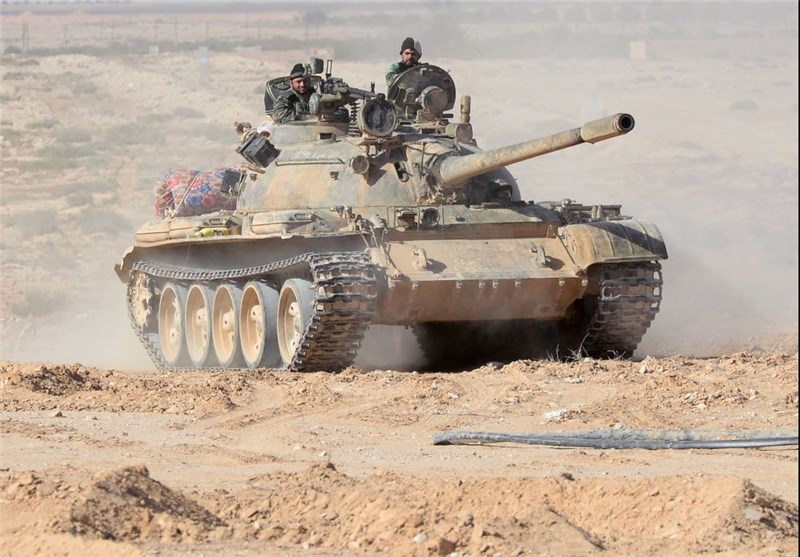 TEHRAN (Tasnim) – Syrian army troops backed by volunteer forces managed to kill 100 terrorists in various regions of the war-stricken country, including the suburbs of Aleppo, Hama and Latakia, local media reports said.
Syrian Army units on Friday thwarted a terrorist attack by ISIL (Daesh) militants against military checkpoints in Rasm al-Aboud and Nasrallah villages in the eastern countryside of Aleppo.
After heavy clashes with the ISIL terrorists in the suburbs of Aleppo, army forces killed dozens of them and destroyed their weapons and vehicles.
The army air force destroyed terrorists' hideouts in Bijan, Tal Bijan, al-Mishirfeh, Rasm al-Kabeir, Jurouf, Bab al-Neirub, Shwilikh, Sharee' and Najjara in Aleppo countryside, the Syrian Arab New Agency reported.
In another operation in eastern Ghouta, Syrian Army units cut off a supply route for terrorists linking Marj al-Sultan and al-Bilalieh villages, killing at least 11 terrorists.
According to the report, Mohammad Darwish, a top figure of Ahrar al-Sham militant group, was killed in Jisrin village in eastern Ghouta. Three cars were also destroyed and a number of terrorists were killed.
Syria has been entangled in civil war since March 2011. The ISIL Takfiri terrorist group controls parts of the Arab country, mostly in the east.
Meanwhile, Russia's aerial support for the Syrian forces has given fresh impetus to the fight against the foreign-backed terrorists.
Since late September, Russia has been carrying out bombings against the ISIL terrorists in Syria, after Russia's parliament granted President Putin authorization to deploy the country's air force abroad.
In the past four and a half years, more than 250,000 people have died in Syria -overwhelmingly civilians- and around 4 million Syrian people are now refugees in other countries. Around 8 million others have been displaced internally.