Iran's Missile Power Unstoppable: Commander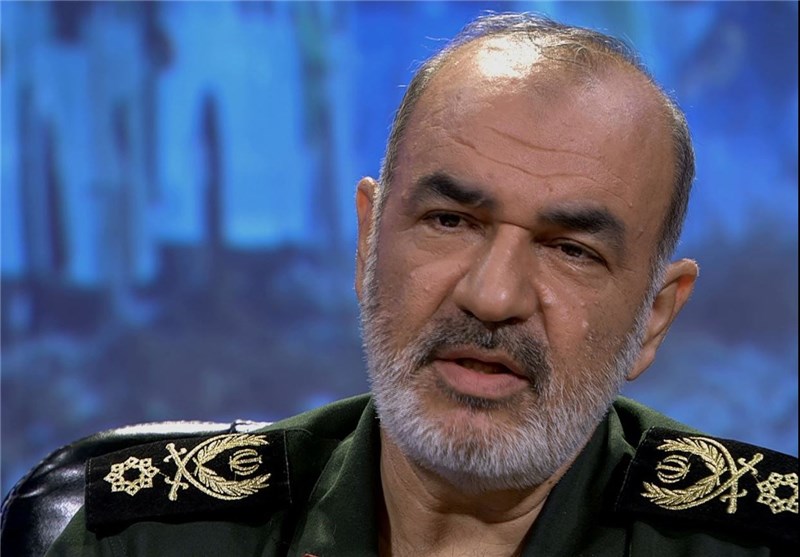 TEHRAN (Tasnim) – Lieutenant Commander of the Islamic Revolution Guards Corps (IRGC) Brigadier General Hossein Salami highlighted Iran's missile capabilities, saying anti-Iran sanctions helped the country develop its missile power.
Speaking on the sidelines of a ballistic missile launch, General Salami noted that several missiles with different ranges were test-fired in various parts of the country during the "Might of Velayat" military exercises underway across Iran.
"In addition to continued exercises, we also consider the real launch of missiles in a bid to improve the preparedness of our forces," he stated.
"The main objective of the drills was to demonstrate the (country's) resolve for defense and deterrence," General Salami said, adding that the missiles protect all Islamic countries, bringing peace, support, and might for the friends of Iran's Revolution.
"The drill's message for the enemies is defense, resistance, and deterrence," he added.
"The missiles test-fired today are the outcome of sanctions," the IRGC commander said, reiterating that the country's missile development was made possible through the anti-Iran sanctions.
He further referred to the missile capabilities of Lebanese Resistance Movement Hezbollah, saying, "When Hezbollah has stockpiled more than 100,000 missiles, (obviously) the Islamic Republic possesses tens of times more missiles in various classes."
He also reaffirmed that the country's missile power is not stoppable.
"We will transfer all our experiences and achievements to our brothers in the Muslim world and the Resistance front against the US, Israel, and their regional allies," General Salami went on to say.
The IRGC forces test-fired two types of Qadr ballistic missiles during the drills in north of Iran on Wednesday morning.
The two ballistic missiles, Qadr-H and Qadr-F, were launched from the heights of East Alborz Mountains, north of Iran, and hit targets on the Makran coasts, southeast of the country.
The projectiles streaked along Iran's airspace for some 1,400 kilometers before hitting the targets.
The IRGC Aerospace Force began the final stage of the missile drills in different parts of the country on Tuesday morning by firing ballistic missiles from silos.
According to the IRGC, the exercise is meant to demonstrate Iran's might and sustainable security in light of unity, convergence, empathy and harmony.