JCPOA Excludes Iran's Access to US Financial System, US Says
TEHRAN (Tasnim) – US Press Secretary Josh Earnest said that no provision is included in the recent nuclear deal between Tehran and world powers whereby Iran can have access to the US financial system.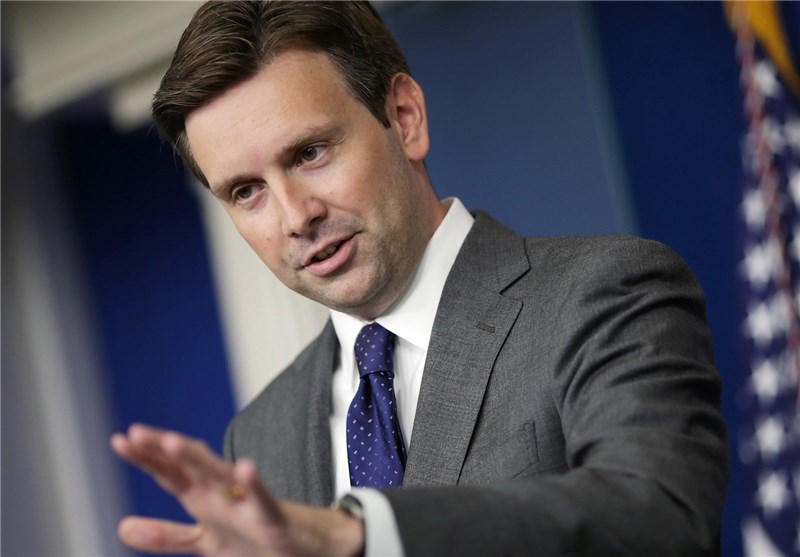 "The agreement that's included in the JCPOA (Joint Comprehensive Plan of Action) does not include giving Iran access to the US financial system or to allow the execution of so-called U-turn transactions," Earnest told reporters at a briefing on Friday.
"And we have ruled out going Iran access to either of those two options," he further said.
He added that the United States and its partners "are committed to ensuring that we fulfill our end of the JCPOA, and that involves following through with giving Iran the kind of sanctions relief to which they're entitled, as a result of them following through on the steps they have taken to roll back significant aspects of their nuclear program and to make clear that they will not acquire a nuclear weapon."
In similar remarks on Friday, US Department of State Spokesperson John Kirby said that Washington has made good on its side of bargain in the JCPOA, saying, "There's no need to do more when we've met all of our commitments."
The remarks by the US officials came after Head of Iran's Central Bank Valiollah Seif, who is in Washington for the spring meetings of the International Monetary Fund (IMF) and the World Bank, said earlier in the day that the US and its European allies "need to do whatever is needed to honor their commitments."
"If it means more face-to-face contacts with the international banks assuring them they do not penalize them working in Iran, if it means making changes to the laws and regulations to give access to the US financial systems — allow U-turn, whatever is needed — they need to do," Seif added.
John Kirby added that the US understands that Iranians still have concerns and want more relief faster.
"Remember, it's not just a deal between the United States and Iran; it's the P5+1. So all that I can tell you is we're comfortable that we have met all our commitments under the JCPOA, and we will continue to meet those commitments going forward."
US media had reported earlier that the Obama administration was mulling over a plan to relax financial restrictions that ban US dollars in trade with Iran.
It is believed that Washington suddenly reversed its decision after a number of US lawmakers expressed concerns over this, arguing that "Tehran would be getting more than it deserves" from last year's nuclear accord.
"These reports are deeply concerning, to say the least," House Speaker Paul Ryan said Thursday in a statement.
Representative Brad Sherman, a Democrat, also wrote a letter to Obama and said allowing dollar transactions for business with Iran "is clearly not required" by the nuclear deal and would only lead the Iranians to make further demands.
In a separate letter, Republican Sens. Marco Rubio and Mark Kirk cited testimony last year by Treasury Department's sanctions chief, Adam Szubin, who told lawmakers Iran wouldn't be allowed "even to execute a dollarized transaction where a split second's worth of business is done in a New York clearing bank."
This is while Iran has said it is not interested in dealing with dollar and has switched to euro in its foreign trade.
Tehran and the Group 5+1 (Russia, China, the US, Britain, France and Germany) reached the nuclear deal on July 14, 2015 and started implementing it on January 16.
The comprehensive nuclear deal, known as the Joint Comprehensive Plan of Action (JCPOA), terminated all nuclear-related sanctions imposed on Iran.