Iraqi Army Retakes Region East of Ramadi
TEHRAN (Tasnim) - The Iraqi army and allied volunteer fighters have managed to liberate an area east of the central Iraqi city of Ramadi, media reports said on Saturday.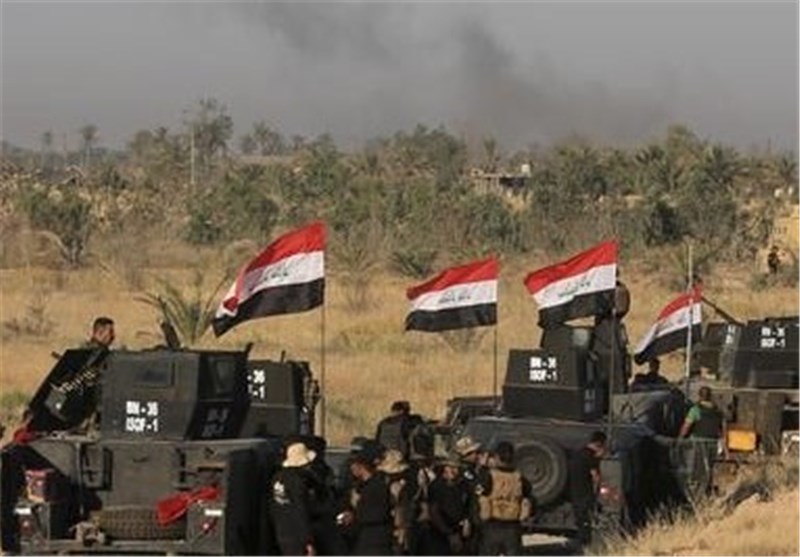 Major General Ismail al-Mahlawi, the head of the Anbar Operations Command, on Saturday announced the liberation of Albu Obeid region and added that the Iraqi forces are at the doorstep of the al-Zeweyyah area.
Iraqi troops also on Saturday morning announced an all-out operation to free the region of Jazeerat al-Khaledeya east of Ramadi, the capital of the western Anbar Province.
Meanwhile, Iraq Joint Operations Command said Iraqi F16 fighter jets conducted airstrikes against Daesh Takfiri group's stronghold district of al-Qaim along Iraq's borders with Syria and managed to destroy a number of the terrorists' headquarters and posts, Press TV reported.
The Iraqi Ministry of Defense also said on Saturday that some 50,000 displaced families have returned to their homes in Iraq's province of Salahuddin - to the northeast of Anbar - after thorough investigations confirmed that they had no affiliation with Daesh Takfiri terrorists.
The northern and western parts of Iraq have been plagued by gruesome violence ever since Daesh terrorists mounted an offensive in the country in June 2014.
Iraqi government forces, backed by fighters from allied Popular Mobilization units, have been fighting the militants.
The Iraqi army and allied volunteer fighters on Thursday succeeded in recapturing more territories from Daesh terrorists on the outskirts of the recently-liberated city of Fallujah.
Security sources said the Iraqi troops retook control of two districts of Albu Ifan and al-Dhaviyah south of Fallujah in Anbar Province.
Iraqi forces retook Ramadi from Daesh Takfiri militants in December 2015 after seven months of control over the city by the terrorists.
The new gains come days after the Iraqi military announced the full liberation of Fallujah, located around 60 kilometers from the capital of Baghdad, but clashes have continued with the remaining militants around the city.
Iraqi forces are now engaged in a military operation to regain control of Mosul.
Iraqi Prime Minister Haidar al-Abadi has repeatedly vowed that the year 2016 will be the year Daesh would be "wiped out of the Iraqi soil."