French Intelligence Orchestrated Ghouta Poison Gas Attack: Syria
TEHRAN (Tasnim) – The Syrian government said that a chemical attack that killed hundreds of civilians was orchestrated by French intelligence agencies to divert UN weapons inspectors from another incident carried out by militants in Aleppo.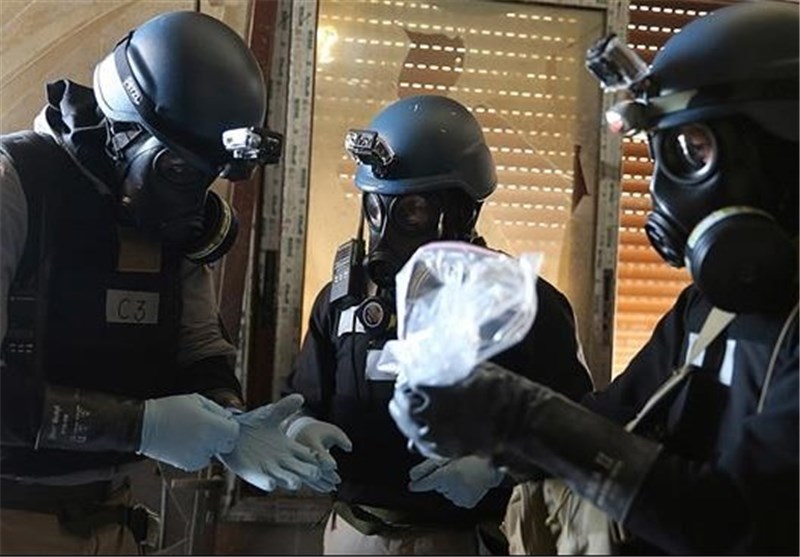 Appearing during a heated session of the UN Security Council on the Syrian civil war, Damascus's envoy to the United Nations, Bashar al-Jaafari hit out at several members of the US-led coalition.
Discussing the sarin gas attack that killed hundreds of people in the Damascus suburb of Ghouta on 21 August 2013, he inferred the atrocity was part of a plot to divert UN weapons inspectors from another incident blamed on rebels.
"The use of chemical weapons in the Damascus area was meant to prevent from Dr Åke Sellström from going to Aleppo because [France] knew who had used chemical weapons in Aleppo," Mr al-Jaafari, said, the Independent reported.
"They wanted to prevent Dr Sellström from reaching Aleppo by any means and therefore they used chemical weapons in Damascus with the involvement of French intelligence."
The attack intensified global calls for action against the Assad government.
A UN inspection found that rockets loaded with the deadly nerve agent sarin were fired on rebel-held areas of Ghouta on the morning of 21 August in the "most significant confirmed use of chemical weapons against civilians since Saddam Hussein used them" in Halabja in 1988.
Harrowing footage showed men, women and children vomiting and frothing at the mouth, with graphic images showing scores of bodies laid out on the floors of clinics and mosques.
There was no confirmed death toll from the attack, with the Doctors Without Borders charity (MSF) saying at least 355 people died out of 3,600 with neurotoxic symptoms.
Countries including the US, Canada and France accused Syrian government of launching the nerve gas attacks. The Syrian government has denied allegations, providing documents which indicate that the attack was carried out by militants operating inside the country to draw in foreign intervention.
Mr al-Jaafari responded to concern over civilian deaths and the humanitarian situation in besieged areas by hitting out at other parties in the conflict at the Security Council meeting.
After accusing the US-led coalition of killing hundreds of people in its air campaign, he said a terrorist war had been imposed on Syria.
"No one in the world will care more for the lives of those civilians or feel their pain more than us," Mr al-Jaafari told the meeting.