Iran's President Urges Response to Nuclear Deal Violation
TEHRAN (Tasnim) – Iranian President Hassan Rouhani called on the Foreign Ministry and the Atomic Energy Organization of Iran (AEOI) to initiate processes to react to the US government's violation of the Joint Comprehensive Plan of Action (JCPOA), a nuclear agreement with six world powers.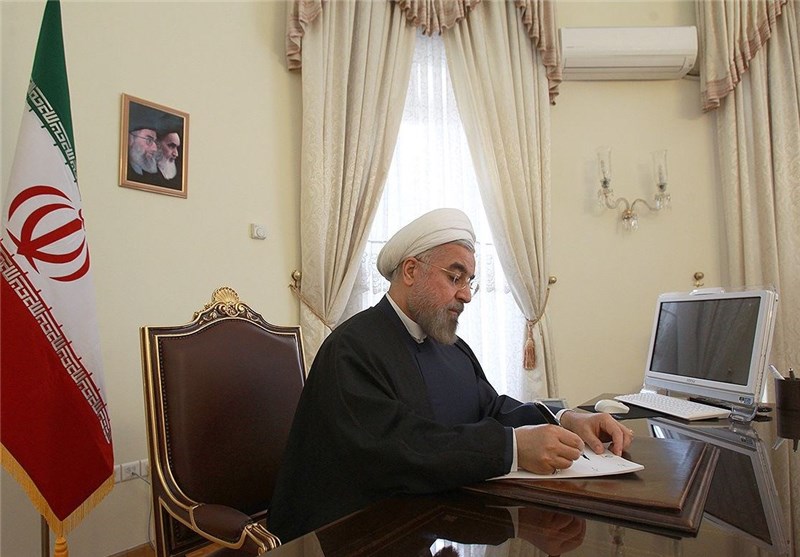 In separate decrees on Tuesday, President Rouhani called on Foreign Minister Mohammad Javad Zarif and Head of the Atomic Energy Organization of Iran (AEOI) Ali Akbar Salehi to take immediate action in response to Washington's violation of the JCPOA, the nuclear deal between Iran and the Group 5+1 (Russia, China, the US, Britain, France and Germany).
The president has cited the US delay in implementing the JCPOA and a recent US congressional bill extending Iran Sanctions Act (ISA) for another ten years.
In his letter to Foreign Minister Zarif, the president slammed the US conduct as a breach of the JCPOA, calling on the ministry to comply with decisions made by the Supreme National Security Council and by a committee overseeing implementation of the JCPOA, and "carry out the planned measures in the JCPOA for addressing the cases of violation (of the deal) and press on with the necessary legal and international measures in a serious manner."
And in the letter to Mr. Salehi, President Rouhani ordered the AEOI to take the following measures to develop Iran's peaceful nuclear program within the framework of international regulations: plans for designing and manufacturing nuclear propulsion systems in the maritime domain in cooperation with the scientific and research centers; and working on "production of fuel" needed to run the nuclear propulsion systems.
Earlier in December, the US Senate voted 99-0 to extend the ISA for another decade. The bill was passed by the House of Representatives nearly unanimously in November, and congressional aides said they expected Obama would sign it.
President Hassan Rouhani had already warned that implementation of ISA will constitute a "clear and flagrant violation of the JCPOA" and draw a "very harsh reaction" from Tehran.