Iran's Top Judge Urges Riposte to US Entry Ban
TEHRAN (Tasnim) – Iranian Judiciary Chief Ayatollah Sadeq Amoli Larijani called on the administration to show a decisive and proportional reaction to US President Donald Trump's recent order barring Iranians from entering the US, slamming the decision as "illogical and inhumane."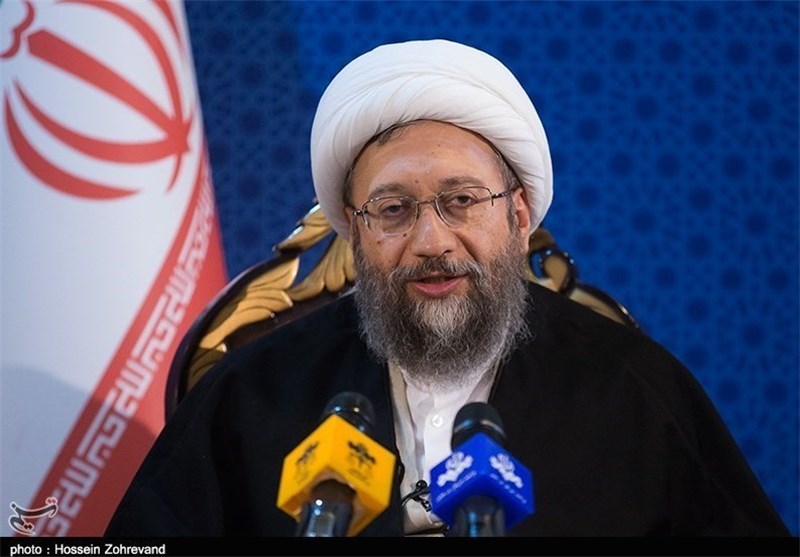 In an address to a meeting of senior Judiciary officials in Tehran on Monday, Ayatollah Amoli Larijani urged President Hassan Rouhani's administration, particularly the diplomatic bodies, to learn from the "major and bitter experience of the JCPOA" and show a "decisive, appropriate and proportional reaction" to the new US president's "unbalanced, illogical and inhumane" order that bars people from seven Muslim-majority countries, including Iran, from entering the US.
He also urged a forceful response from Muslim nations to the new order that Trump claims is about countering terrorism and keeping the US safe, noting, "Iran, Syria, Iraq and Yemen that have now become targets of the US president's anger are the very victims of US policies in support of terrorists."
The top official then underlined that a strong response from Iran and other Muslim countries will send the US government the signal that it can no more expect to rule the world with bullying conducts.
Trump's decision is in contradiction to the principles of human rights, Ayatollah Amoli Larijani deplored, saying such inhumane behavior would only foment Islamophobia.
On January 27, Trump signed an executive order that bars citizens of Iran, Iraq, Syria, Sudan, Libya, Yemen and Somalia from entering the US for 90 days and suspends the US Refugee Admissions Program for 120 days.
Iran's Foreign Ministry has strongly condemned the insulting move against Iranians and Muslims, saying Tehran will take reciprocal measures in order to safeguard the rights of its citizens until the time of the removal of the insulting restrictions.