Iran to Shred JCPOA If Other Side Tears It Up: Leader
TEHRAN (Tasnim) – Leader of the Islamic Revolution Ayatollah Seyed Ali Khamenei warned that Iran would shred the 2015 nuclear deal, also known as the Joint Comprehensive Plan of Action (JCPOA), if the US tears it up.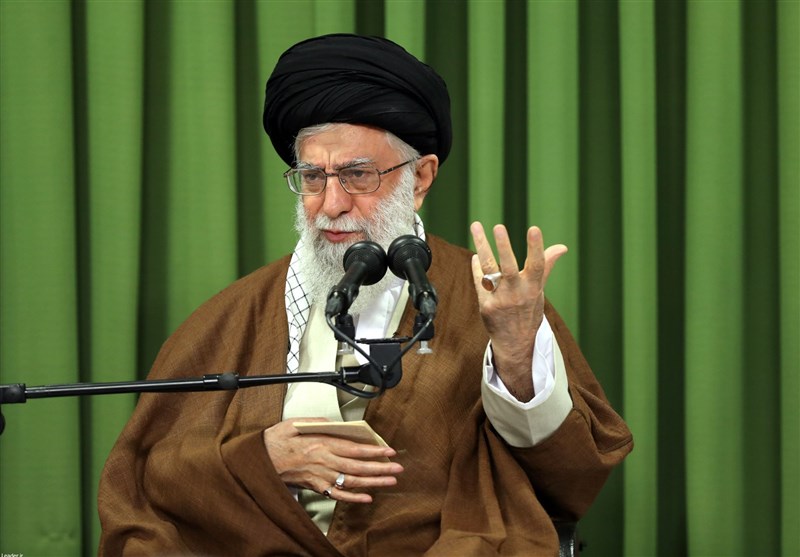 Addressing a gathering of Iranian academic elites in Tehran on Wednesday, Ayatollah Khamenei described the stances adopted by some European governments against recent anti-Iran comments made by US President Donald Trump as good but insufficient.
"The Europeans, who have realized that the JCPOA is to their benefit and that of the US, voiced their opposition to the US president's remarks about tearing up the JCPOA," the Leader said, adding, "This is good but not enough."
The Europeans should confront the US government's measures against the JCPOA, including the anti-Tehran sanctions due to be imposed by the US Congress in violation of the deal, the Leader said.
"As long as the other party has not torn up the JCPOA, we will not, either," Ayatollah Khamenei said. "But if they tear the JCPOA up, we will rip the deal into pieces."
The Leader further pointed to Trump's comments against the Islamic Revolution Guards Corps (IRGC) and said it is natural that US leaders are angry with the IRGC because it has prevented Washington and the Daesh (ISIS or ISIL) terror group from reaching their dangerous goals in the region.
Elsewhere, Ayatollah Khamenei highlighted US hostilities toward the "elements of power" of the Islamic Republic and said despite the enmities, all Iranians should make efforts to strengthen the elements.
The Leader described the country's missile power as one of the main elements of power of the Iranian nation and said, "The missile power should be enhanced day after day…."
After months of anticipation, Trump on Friday said his administration "cannot and will not" certify Iran's compliance with the JCPOA to Congress, as he set out a new strategy for dealing with Iran.
He also said that his new strategy begins with imposing tough sanctions on the IRGC, accusing Iran of "proliferation of missiles and weapons that threaten its neighbor's global trade and freedom of navigation."
In a televised address to the nation later in the day, Iranian President Hassan Rouhani blasted the comments by Trump, reiterating that the Iranian nation will not surrender to such "false statements and hate speech."