Iran Greco-Roman Wrestling Team Becomes Champion at Takhti Cup
TEHRAN (Tasnim) – Iranian Greco-Roman wrestling team finished in first place at the 38th edition of International Takhti Cup.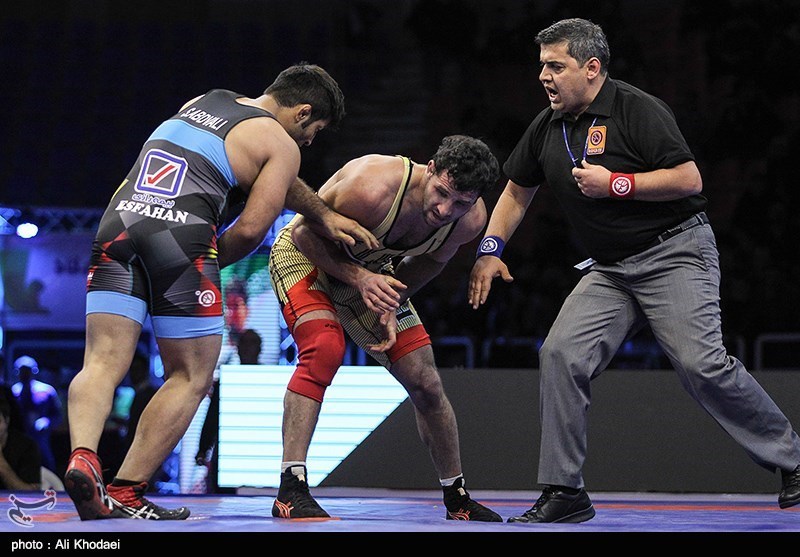 In the competitions held in Mahshahr, southern port of Iran, the Iranian team won three gold, one silver and eight bronze medals.
Iran won the title with 192 points, Turkey came second with 171 points and Kazakhstan finished in third place with 145 points.
Full results are as follow:
55kg:
Gold: Ekrem OZTURK (TUR)
Silver: Bachana PUTKARADZE (GEO)
Bronze: Moslem NADERI (IRI)
Bronze: Reza KHEDRI (IRI)
60kg:
Gold: K. ZHOLCHUBEKOV (KGZ)
Silver: Mehrdad MARDANI (IRI)
Bronze: Dastan ZARLYKHANOV (KAZ)
Bronze: Mirambek AINAGULOV (KAZ)
63kg:
Gold: K. SULAYMANOV (KGZ)
Silver: Kudaibergen TURSYNOV (KAZ)
Bronze: Mohammad NOURBAKHSH (IRI)
Bronze: U. AMATOV (KGZ)
67kg:
Gold: Almat KEBISPAYEV (KAZ)
Silver: Fevzi MAMUTOV
Bronze: Mohammad ELYASI (IRI)
Bronze: Atakan YUKSEL (TUR)
72kg:
Gold: Demeu ZHADRAYEV (KAZ)
Silver: Murat DAG (TUR)
Bronze: Ibragim MAGOMADOV (KAZ)
Bronze: Farshad BELFAKEH (IRI)
77kg:
Gold: Mohammadali GERAEI (IRI)
Silver: Serkan AKKOYUN (TUR)
Bronze: Boroomand aslan GHAREHDAGHI (IRI)
Bronze: Fatih CENGIZ (TUR)
82kg:
Gold: Emrah KUS (TUR)
Silver: Daniel ALEKSANDROV (BUL)
Bronze: Burhan AKBUDAK (TUR)
Bronze: Aivengo RIKADZE (GEO)
87kg:
Gold: Saman AZIZI (IRI)
Silver: Khussein MUTSOLGOV (KAZ)
Bronze: Azamat KUSTUBAYEV (KAZ)
Bronze: Tarek ABDELSLAM (BUL)
97kg:
Gold: Orkhan NURIYEV (AZE)
Silver: Cenk ILDEM (TUR)
Bronze: Turman EYYUBOV (AZE)
Bronze: Aliakbar HEIDARI (IRI)
130kg:
Gold: Behnam mahdizadeh ARPATAPEH (IRI)
Silver: Osman YILDIRIM (TUR)
Bronze: Shahab GHOUREHJILI (IRI)