President Warns of Consequences of Breaching Deals with Iran
TEHRAN (Tasnim) – Iranian President Hassan Rouhani reaffirmed the country's commitment to the deals it signs with the other parties, cautioning that those breaking agreements with Iran will have to face the consequences of their conduct.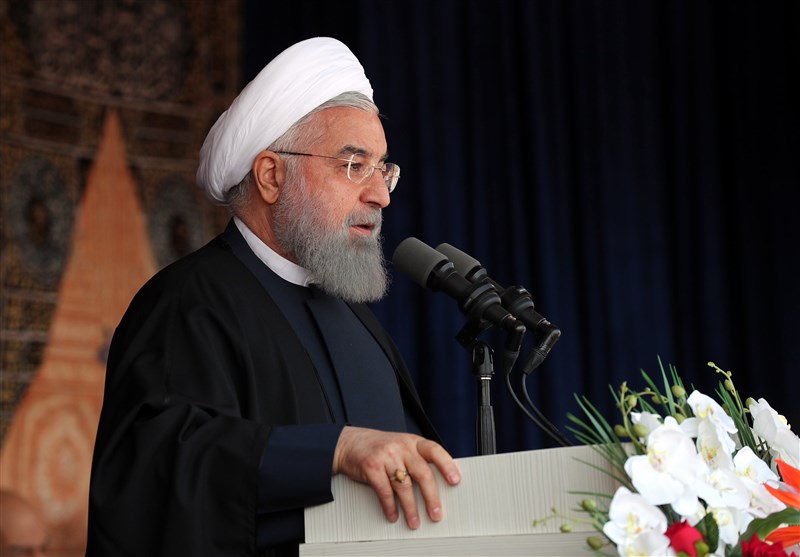 "Today, we are honoring our commitments more vigorously than ever, however, anybody wanting to violate their agreements with us should know that the dire consequences of such a move would engulf themselves," Rouhani said in a gathering of people in Iran's northwestern city of Tabriz on Tuesday.
The president then reminded the US administration that the great Iranian nation would strongly counters any plot, whether the White House officials honor their commitments and moral values or not.
He then pledged that his administration will keep efforts to protect calm in the market and livelihood of people, underlining that the "plots hatched by the US, Zionists and Arab reactionary" regimes could by no means undermine Iran's progress.
In comments in September 2017, Leader of the Islamic Revolution Ayatollah Seyed Ali Khamenei lambasted the US for violating the JCPOA, the 2015 nuclear deal between Tehran and world powers, warning that any "wrong move" concerning the nuclear deal would draw reaction from Iran.
"The Iranian nation is standing firmly, and any wrong move by the hegemonic system concerning the JCPOA would receive the Islamic Republic's reaction," the Leader said in a military gathering in Tehran.
Iran and the Group 5+1 (Russia, China, the US, Britain, France and Germany) reached the 159-page nuclear agreement in July 2015 and started to implement it in January 2016.
Ever since the deal took effect, the International Atomic Energy Agency (IAEA) has confirmed Iran's compliance with the JCPOA in all quarterly reports, but some other parties, especially the US, have failed to live up to their undertakings.
US President Donald Trump has on various occasions called for renegotiating the JCPOA or terminating it but Iran and most other parties to the deal say the nuclear agreement is a valid multilateral international document that would not be renegotiated.