Lavrov: US Establishment's Russophobia Impedes Trump's Initiatives toward Russia
TEHRAN (Tasnim) - Russia shares US President Donald Trump's intention of establishing normal Russia-US dialogue, but Moscow will judge whether the US' interest is real based on practical steps, Russian Foreign Minister Sergei Lavrov said.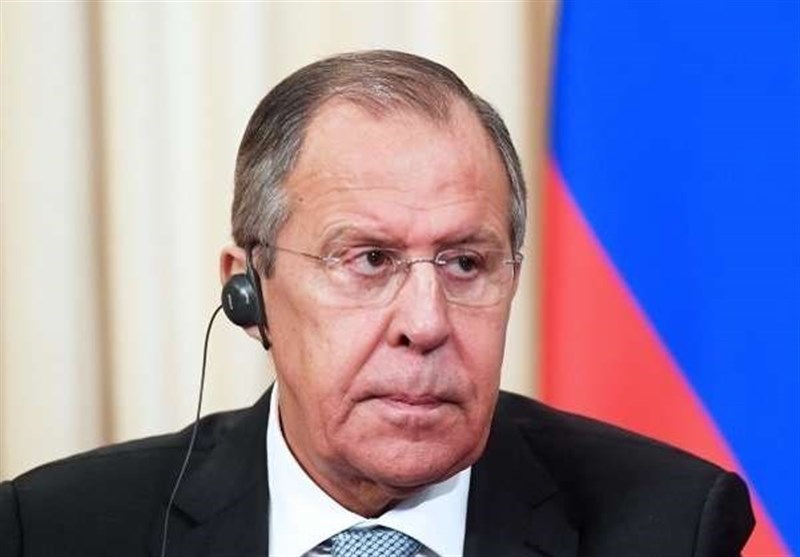 "We have repeatedly stated that we positively assess president Donald Trump's words on his desire to establish normal dialogue between our countries, Lavrov told the Panorama magazine in an interview, adding that "we will only judge the real interest of our partners in constructive … cooperation by their practical steps."
According to Lavrov, relations continue deteriorating.
"Even if there is some positive input from the president, it is fully canceled out by off-the-chart Russophobia in the US establishment where our country is portrayed as a threat," Lavrov said, Sputnik reported.
The politician added that such situation had been caused by an "internal struggle" in Washington and had nothing to do with reality.
The minister recalled that Trump and Russian President Vladimir Putin had spoken by phone in March.
"(Trump) proposed to hold a high-level meeting very soon, he invited (Putin) to the White House, he spoke about his desire to establish coordination of efforts on the international arena, to jointly curb the arms race," Lavrov added.
The Russian diplomat said that Moscow would like to have friendly ties with Washington but without sacrificing national interests.
"While many people in Washington continue to 'plunge into' a self-replicating Russophobia, the cooperation on important issues on the global agenda stalls. This has a negative impact on the situation in the world, where are a lot of issues that could not be settled without Russia-US cooperation," the minister added.
Lavrov expressed hope that common sense would prevail and representatives of the US establishment would be in the mood of cooperation with Russia.
Tensions in the international relations are the result of some unilateral actions of the United States and its allies.
"Obviously, the situation in the world is getting tenser and less predictable. We have repeatedly noted that it resulted, first of all, from continuous unilateral actions of the United States and some Western states 'loyal' to it", Lavrov said.
The minister noted that Russia was promoting positive agenda, prevention of chaos and confrontations and settlement of existing conflicts. He expressed confidence of possibility of peaceful coexistence of all the international players.
"All of them (the states) are very different, and not always they behave sound and stepwise. But it is still possible to reach peaceful coexistence and sustainable development… Under any circumstances Russia will continue to work on preservation and development of good initiatives in world affairs," Lavrov said.
The minister stressed the importance of mutual respect, as well as observation of key principles reflected in the UN charter, including non-intervention in domestic affairs of other states and respect for sovereignty.
As far as Ukraine is concerned, Lavrov said that the European Union and the North Atlantic Alliance (NATO), while pursuing their policy toward Russia's western neighbor, have been guided by anti-Russian sentiment and the strive for geopolitical gains, rather than by pro-Ukrainian considerations.
"In the West's line on the (Ukrainian) issue, there is nothing (that could be regarded as) pro-Ukrainian, everything is anti-Russian. We see that, for the United States and a number of its satellites, talks about common space of peace, security and stability in the Euro-Atlantic region were a guise, cover for the continued pursuit of the archaic seizure of geopolitical space and push of the fault lines to the East both through NATO enlargement and the EU Eastern Partnership program," Lavrov said.
The minister recalled that Germany, Poland and France, despite being guarantors of the agreement between former Ukrainian President Viktor Yanukovich and the opposition, had soon given up on their obligations after the latter refused to honor the deal. NATO, which actively discouraged Yanukovich from using military force against protesters, currently does not prevent Kiev from using force in Donbas, Lavrov added.
According to the head of the Russian foreign diplomacy, the United Kingdom's refusal to provide Russia consular access to former Russian spy Sergei Skripal and his daughter Yulia, poisoned in Salisbury, may be considered kidnapping.
"The United Kingdom's refusal for consular access gives grounds to consider current events as kidnapping or intentional isolation. This is absolutely unacceptable," Lavrov told the Panorama magazine.
On March 4, former Russian intelligence officer Sergei Skripal and his daughter were found unconscious on a bench near a shopping mall in the UK town of Salisbury. UK authorities have blamed Russia for attempting to assassinate the Skripals with the A234 nerve agent.
Russia has denied having any role in the poisoning, pointing to the lack of evidence provided by London to substantiate its accusations. Moscow has also released a list of questions addressed to the UK authorities on the case.