Leader Lauds Flag-Bearer's Wearing of Chador at Asian Para Games
TEHRAN (Tasnim) – Leader of the Islamic Revolution Ayatollah Seyed Ali Khamenei praised a move by a female Iranian athlete to wear a chador while bearing the national flag of the country at the 2018 Asian Para Games in Jakarta, Indonesia, as a sign of the Islamic Republic's cultural power.
November, 14, 2018 - 14:21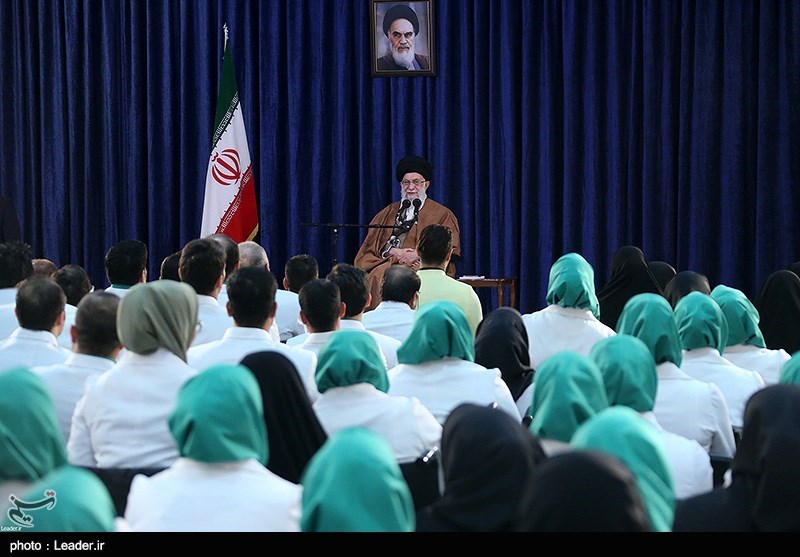 Speaking at a meeting in Tehran on Wednesday with the Iranian medalists and other athletes who attended the 2018 Asian Para Games, the Leader hailed the self-confidence of para athletes, especially female athletes, and their efforts to defend their religious and national values as "outstanding and admirable".
The move by the lady to wear a chador (a large piece of cloth that is wrapped around the head and upper body leaving only the face exposed) while bearing Iran's flag or performing Friday prayers indicates a strong single fight against the moral depravity in the world, Ayatollah Khamenei said.
While some lack the ability to resist against the global arrogance's endless expectations that female athletes refuse to wear hijab at international competitions, the Iranian athletes stood up and defended their "hijab, chastity, and national and religious clothing" as a show of "cultural power", the Leader said, adding, "For this reason, I sincerely and deeply congratulate the members of the Islamic Republic of Iran's squad."
"You demonstrated with your valuable move that you have cultural power and independence as well as a strong determination," Ayatollah Khamenei went on to say.
Back in October, the Iranian delegation finished in third place in the third edition of the Asian Para Games in Jakarta.
The Iranian athletes claimed 51 gold, 42 silver and 43 bronze medals in the Games.
The Leader has on many occasions urged vigilance in the face of enemy ploys to gain a political and cultural foothold in Iran, warning that the consequences of such infiltration would be much worse than that of enemy's economic influence.
"Economic and security infiltration is, of course, dangerous and has dire consequences, but the enemy's political and cultural infiltration (into Iran) is a much more serious threat that everyone should be vigilant about," Ayatollah Khamenei said back in September 2015.
As part of plans for cultural infiltration, the enemy has made heavy investment to gradually change the Iranian people's beliefs, the Leader said at the time.