IRGC General Warns Enemies of Unforgettable Defeat
November, 25, 2018 - 13:29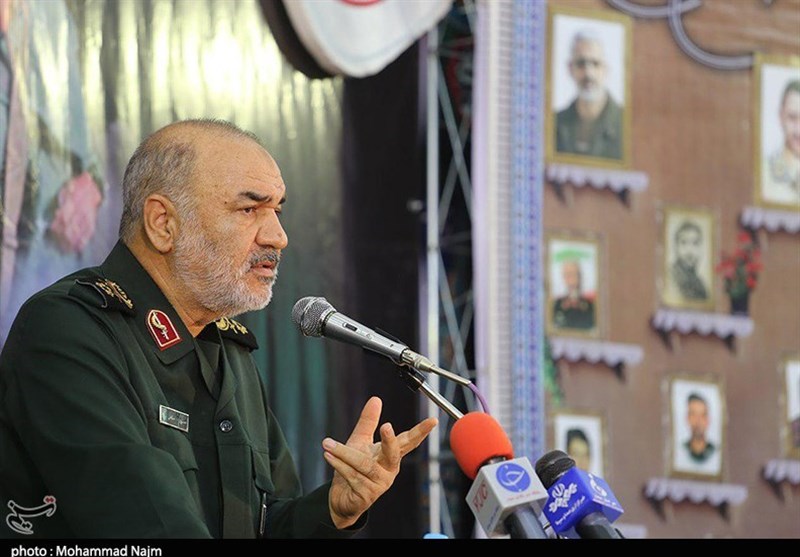 TEHRAN (Tasnim) – Lieutenant commander of the Islamic Revolution Guards Corps (IRGC) warned the enemies against the dire consequences of military action against Iran, saying the Islamic Republic will inflict an "unforgettable" defeat on invaders.
In an address to a gathering of IRGC commanders in Tehran on Sunday, Brigadier General Hossein Salami said Iran has gained global defense power.
"Today, we have become so powerful that we can both defend our country against invasion, and chase the enemy, if necessary, and inflict an unforgettable defeat on it," the general added.
He underlined that Iran will also emerge victorious in the economic war with the help of Basij forces.
Thanks to the resolved, young Iranian forces, the powers like the US could not take any action against the Islamic Republic, he added, saying the US and its allies have suffered successive defeats in the Islamic territories.
General Salami stated that the enemies do not resort to military action against Iran, because they are unable to do that.
Back in May, Leader of the Islamic Revolution Ayatollah Seyed Ali Khamenei said the US government is aware of the crushing response it will have to face in case of taking military action against Iran, reiterating that the time of hit and run is over.
The US is seeking a way to evade the costs of standing against Iran and place them on regional countries, Ayatollah Khamenei said on April 30, reminding certain regional countries that if they confront Iran, "they will definitely suffer blows and defeat."