Iran Underlines Lasting Cooperation with Syria, Iraq in War on Terror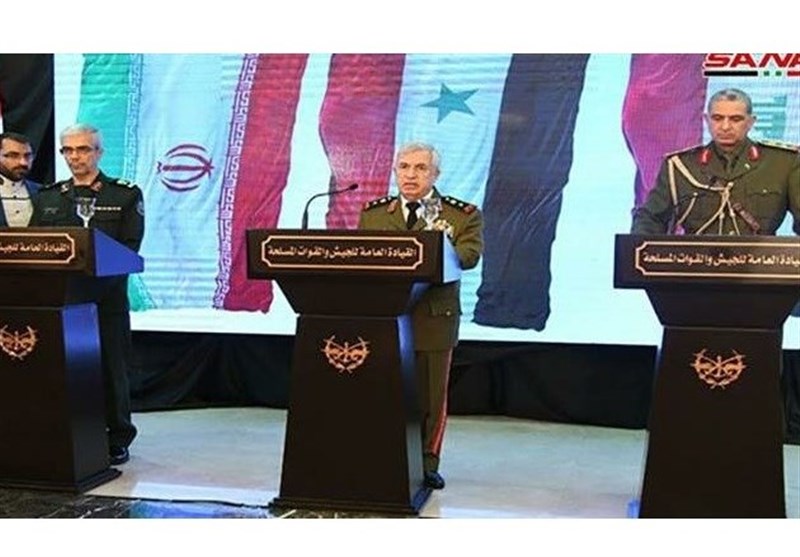 TEHRAN (Tasnim) – Chief of Staff of the Iranian Armed Forces Major General Mohammad Hossein Baqeri affirmed that trilateral cooperation among Iran, Syria and Iraq in the fight against terrorism will go on until the total elimination of terrorists.
Speaking at a joint press conference with his Syrian and Iraqi counterparts in Damascus on Monday, Major General Baqeri said the main goal is currently to preserve national sovereignty and territorial integrity of Syria.
"Measures taken by the three countries will continue until terrorists are fully defeated."
Baqeri added that withdrawal of foreign forces that are present in Syria without any authorization from the Damascus government is also top on the agenda of the three states, according to Press TV.
On the presence of Iranian forces in Iraq and Syria, Baqeri explained that the terrorists in those two countries posed a threat to Iran's security as well, adding that Iran deployed its military advisers to the two Arab countries at their request.
Baqeri also reiterated that no foreign armed forces should be deployed to any country in the region without its legal permission, adding that Iran will continue its fight against terrorists in Syria as long as the legal Syrian government demands.
General Baqeri, Iraq's Lieutenant General Othman al-Ghanimi, and Syrian Defense Minister General Ali Abdullah Ayyoub held a trilateral meeting in Damascus earlier in the day.
Speaking to reporters upon his arrival in Damascus, the Iranian commander had announced that the foreign forces stationed in Syria without coordination with the Damascus government should leave the Arab country.
In recent years, the Middle East region has been plagued with Takfiri terrorist groups like Daesh (also known as ISIS or ISIL), which are believed to have been created and supported by the West and some regional Arab countries.
The terrorist groups, which claim to be Islamic but whose actions are anything but, have been committing heinous crimes not only against non-Muslims, but mostly against Muslims in the region.
Iraq and Syria have been gripped by insurgency with various terrorist groups, including Daesh, fighting their central governments.
In the meantime, Iran has remained a close ally of the countries and supports their legitimate governments in the face of foreign-backed militancy.