IRGC Chief Warns Enemies to Stop Plotting against Iran
December, 12, 2019 - 17:19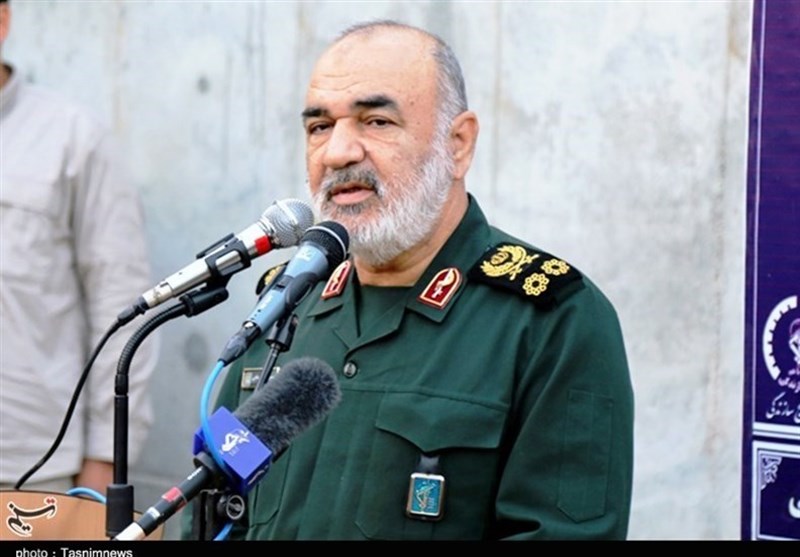 TEHRAN (Tasnim) – Commander of the Islamic Revolution Guards Corps (IRGC) Major General Hossein Salami warned the enemies that they must put an end to their conspiracies against Iran or else will face consequences.
Addressing a gathering of IRGC and Basij (volunteer) forces in the city of Rey, south of Tehran, on Thursday, Major General Salami urged the arrogant powers and their regional allies to stop their hostilities and plots against Iran.
"We tell you that if you do not abandon (your hostile acts), we will set fire to your interests," he said.
"… we will chase you, find you and take revenge," the commander added.
He also said the enemy is wrong to think it can force Iranians to surrender by increasing its economic pressure on the country, stressing that the more the pressure, the stronger the people's determination will become to resist the enemy.
The remarks come against the backdrop of increased tensions between Iran and the US with Washington reimposing sanctions against the Islamic Republic.
The US has ratcheted up pressure on Iran since last year after withdrawing from the 2015 nuclear deal, known as the Joint Comprehensive Plan of Action (JCPOA).
Since then, the administration of US President Donald Trump is trying to reduce Iran's oil exports to "zero," and has sent an aircraft carrier strike group, a bomber squad, an amphibious assault ship, and a Patriot missile battery to the Middle East to try to stack up pressure on Tehran.
Iranian officials, however, have dismissed such moves as psychological warfare, saying the country has its own ways of circumventing the American bans.