IRGC Gains New Capability at Missile, Drone Exercises: Aerospace Force Commander
January, 15, 2021 - 16:52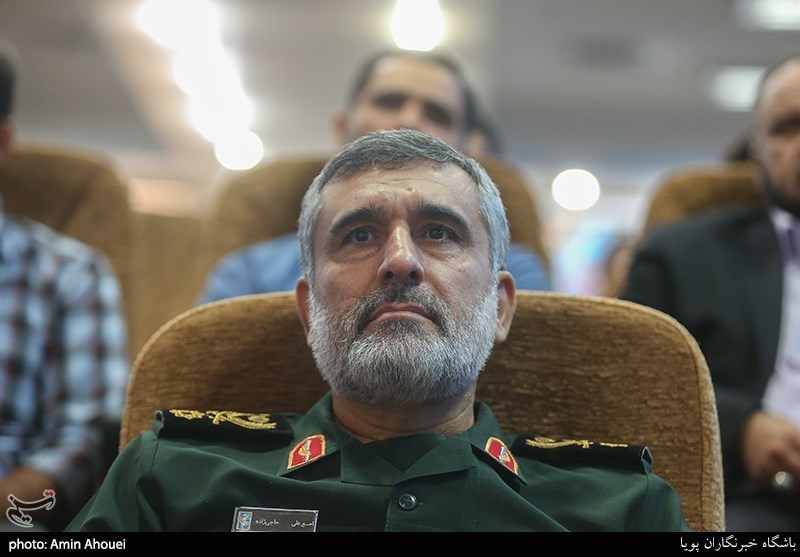 TEHRAN (Tasnim) – Commander of the Islamic Revolution Guards Corps (IRGC) Aerospace Force Brigadier General Amir Ali Hajizadeh gave some details about Iran's new missiles that were launched at Friday drills.
"The first phase of the Payambar-e Azam 15 (The Great Prophet 15) military exercises included launching a barrage of surface-to-surface ballistic missiles followed by operation of offensive bomber drones," Brigadier General Hajizadeh said on Friday, adding that the first phase of the drill was mostly a simulation of attacks on the enemy strengths points and defensive elements.
"At this phase of the exercise, the defensive positions of the hypothetical enemy base were firstly attacked by drone systems, then moments later, multiple missiles fired and destroyed the main sections and assets of the enemy base," he added.
General Hajizadeh described the tactics used during The Great Prophet 15 exercise as the products of the experiences gained during the operations and exercises of previous years, noting that the IRGC forces have achieved a new capability by using the new generation of missiles and attack drones.
Referring to the characteristics and capabilities of the missiles fired during the first phase of the exercise, Hajizadeh said, "The missiles used in this phase of the exercise are the new generation of ballistic missiles with detachable warheads and RCS as well as the low radar cross section."
He said the preparation time of the missiles decreased by one tenth compared to the previous versions.
"In less than 5 minutes from the time of deployment, the missiles could be operational and fired," the General said.
Commander of the IRGC Aerospace Force described the outstanding features of The Great Prophet 15 military exercise as "the ability to attack hypothetical enemy bases from all directions," adding that missiles can prevent the enemy defensive system from defending its positions.
"By combining these new missile capabilities and drone operations as well as the use of artificial intelligence technology, a new power was born in the IRGC today," Hajizadeh also added.