Iran Unveils 133 Achievements on Nuclear Technology Day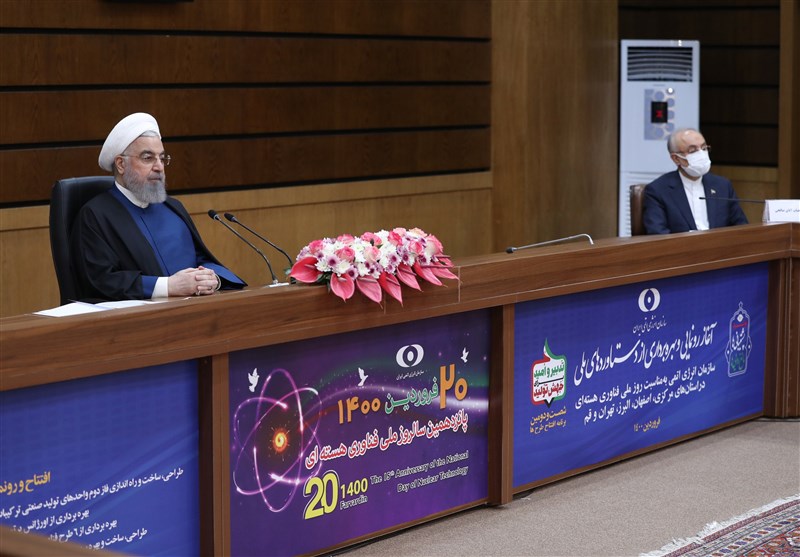 TEHRAN (Tasnim) – Iran celebrated the National Nuclear Technology Day by unveiling 133 new achievements in the field of peaceful nuclear technology and paying tribute to the country's nuclear scientists.
In a ceremony held via videoconference on Saturday, Iranian President Hassan Rouhani ordered the unveiling of 133 homegrown achievements in the nuclear industry.
The major projects and products include the second phase of industrial plants producing deuterated compounds in Khandab in Arak, an emergency care for burns using radiation therapy in Arak, six nuclear enrichment projects in Natanz, disk lasers, Iran Quantum Technologies Center in Tehran, a number of centrifuge machines used by the Blood Transfusion Organization of Iran, and 110 isotope-based biomolecules used in neonatal screening kits.
The other outstanding achievements included a device for online metering of uranium hexafluoride purity, four new radiopharmaceuticals, the prototypes of IR9S and IR9-1B centrifuge machines for enriching uranium, and a 3D metal printer using laser.
Moreover, the Atomic Energy Organization of Iran began injecting gas into a complete chain of 164 IR6 centrifuge machines, inaugurated a station purifying the Uranium Hexafluoride input in Natanz enrichment facility, and operated an assembly line manufacturing new machinery at Ahmadi Roshan nuclear facility.
In recent years, Iranian scientists have made remarkable progress in the field of peaceful nuclear technology despite the sanctions imposed by the West.
It is the 15th year Iran is celebrating a national day to mark its achievements in the nuclear industry.