Iran's Nuclear Activities in Conformity with NPT, Safeguards Agreement: Envoy
September, 08, 2021 - 09:37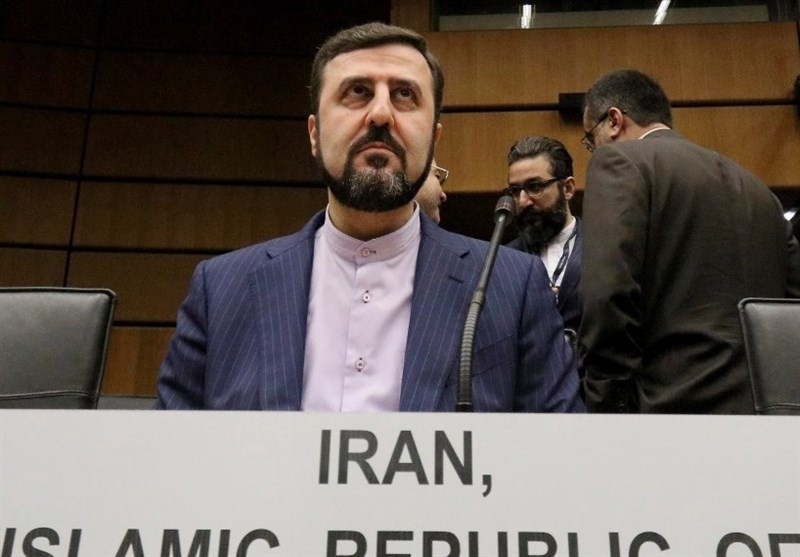 TEHRAN (Tasnim) – Iran's ambassador to the Vienna-based international organizations underscored that all of Tehran's nuclear activities, such as uranium enrichment, conform with the Non-Proliferation Treaty and are in compliance with its commitments under the JCPOA and the safeguards agreement.
Kazem Gharibabadi told reporters on Tuesday that Iran's nuclear activities, including uranium enrichment at various levels, are carried out within the framework of the country's nuclear rights under the Non-Proliferation Treaty based on its safeguard obligations.
He also called on the International Atomic Energy Agency (IAEA) to maintain its impartiality and professionalism towards Tehran's nuclear activities.
Kazem Gharibabadi made the call after the IAEA's chief, Rafael Grossi, claimed in a report that Iran is blocking access to some of its nuclear sites and continues to boost its stocks of uranium enriched above the percentage allowed in the Joint Comprehensive Plan of Action (JCPOA).
"Since the other parties to the JCPOA have not fulfilled their obligations in lifting sanctions and the US policy of imposing illegal and unilateral sanctions on Tehran still goes on, no one can pressure Iran to halt its nuclear activities," the Iranian diplomat said.
"The IAEA must maintain its independence, impartiality and professionalism, and the IAEA members must seriously refrain from putting pressure on the agency and trying to use it as a tool for their own political purposes," Gharibabadi noted, Press TV reported.
The Iranian envoy also criticized the IAEA's nuclear data recording of the country, saying the monitoring agreement between Iran and the agency was signed for a three-month period and was solely a political decision.
He underlined that the data recording agreement should be considered neither as an IAEA's right nor Iran's obligation.
The Iranian ambassador said in July that the Islamic Republic would soon produce enriched uranium metal and that the country had earlier informed the United Nations nuclear watchdog of the move.
Iran and world powers, including the US, Russia, China, France, Britain and Germany, struck the JCPOA on July 14, 2015. Under the accord, Iran agreed to scale back some of its nuclear activities in exchange for sanctions relief.
However, the US, under former President Donald Trump, unilaterally withdrew from the deal and reinstated crippling sanctions on the Islamic Republic, although the country had been fully compliant with the deal.
Iran and the remaining signatories to the JCPOA have already held six rounds of talks in Vienna, which began after the US administration of President Joe Biden voiced willingness to rejoin the nuclear agreement, three years after Trump's withdrawal.