Leader Urges Iran's Constant Naval Presence in Int'l Waters
November, 28, 2022 - 15:09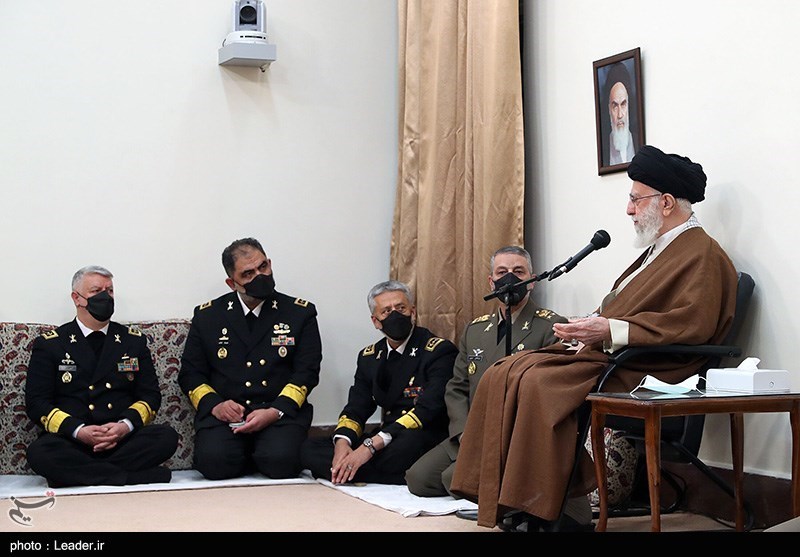 TEHRAN (Tasnim) – Leader of the Islamic Revolution Ayatollah Seyed Ali Khamenei stressed the need for the Iranian Navy to bolster and maintain its presence in international waters.
A number of commanders and officials of Iran's Navy met with Ayatollah Khamenei, the commander-in-chief of the Iranian Armed Forces, on Monday on the occasion of Navy Day.
In the gathering, the Leader emphasized the need for the Navy to boost its combat capabilities and defense equipment and to continue navigation in remote and international waters.
Ayatollah Khamenei also noted that stronger relations between the Armed Forces and the administration and other branches of power will result in understanding, cooperation and progress.
Pointing to the history of maritime activities in Iran that have conveyed the Islamic and Iranian culture and civilization to other parts of the world, the Leader stated, "With such a history and the long sea coasts in the north and particularly the south of Iran, the culture of using the opportunities of the sea has been ignored in Iran, whereas it should turn into the public culture of people."
Ayatollah Khamenei further highlighted the importance of creating a culture in this regard and developing a public understanding of the sea as a fundamental infrastructure, saying, "The issue of development of the Makran coasts has been mooted in the past few years and the administrations also welcomed it, but a significant progress in this field requires culture-creating."
The Leader also pointed to the effective role of artistic products, such as animations, in publicizing the diverse opportunities available in the sea, noting that the presentation of capacities for Iran's sea-based progress in the military and civil sectors will generate public enthusiasm for grasping those opportunities.