Leader Urges Promotion of National Unity in Iran
February, 08, 2023 - 13:22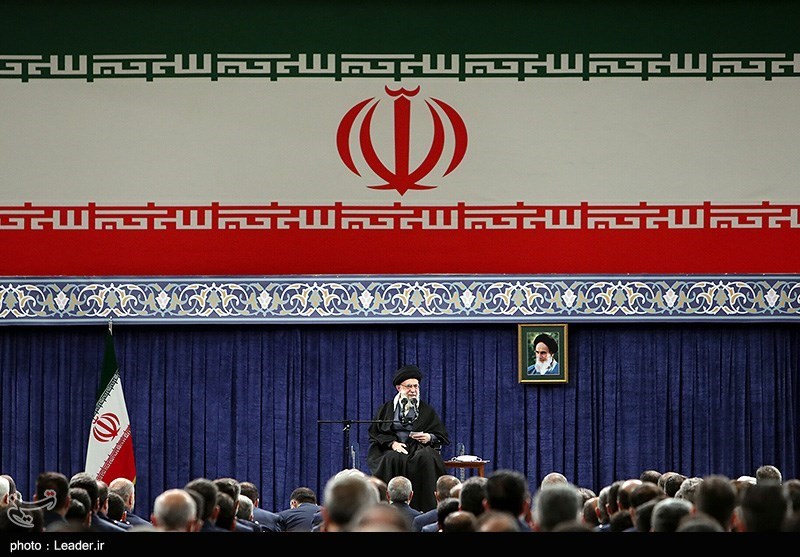 TEHRAN (Tasnim) – Emphasizing the necessity to strengthen national unity in Iran, Leader of the Islamic Revolution Ayatollah Seyed Ali Khamenei warned that the real purpose of the enemy, mainly the US, is to bring the Islamic Republic to its knees.
On the anniversary of the historic pledging allegiance of Iran Air Force commanders with Imam Khomeini (known as the Homafaran Allegiance) on February 8, 1979, a number of the commanders and staff of the Army Air Force met with Ayatollah Khamenei in Tehran on Wednesday morning.
In remarks at the event, the Leader described "national unity" as an essential requirement for the present time.
Likening national unity to a dam and robust wall standing against the enemy, Ayatollah Khamenei said this unity has played a significant role in the victory of the Islamic Revolution and the Revolution's progress in the subsequent years.
"Today, we need to increase this (national) unity as much as possible," the Leader stated.
Ayatollah Khamenei also warned that the US, contrary to what it claims, is pursuing the purpose of bringing the Islamic Revolution and the Islamic Republic's establishment to its knees.
The reason behind the enemy's plot to topple the Islamic Republic is that the Revolution caused the outsiders to lose control of an important, strategic and beneficial region that is full of natural and human resources, Ayatollah Khamenei explained, adding, "The other reason is that the Islamic Republic has raised the voice of independence and not paying ransom."
On the hostile strategies for bringing Iran to its knees, the Leader warned of "fomenting discord and mistrust" in the country.
Hopes for the future would fade when there is mistrust among political groups, among the people, between the people and the government, and among organizations, Ayatollah Khamenei cautioned.
The Leader called for efforts to prevent differences from turning into rifts, warning that the enemies raise various issues relating to women, Shiite and Sunni Muslims, generation gap or other subjects in order to incite discord.
"What is our duty when we observe that the enemy has targeted the unity? The duty is to preserve this unity and solidarity. We should not allow the enemy to emerge victorious in pursuing its dirty plot," the Leader emphasized.
Ayatollah Khamenei further expressed confidence that the people of Iran will once again manifest national unity and trust in the upcoming demonstrations marking the 44th anniversary of the victory of the Islamic Revolution on February 11.
Calling on all Iranian people to take part in the demonstrations as a "symbol of national unity", the Leader said the enemy should get the message that its attempts to harm national unity in Iran have been thwarted, it cannot divide people or separate them from the establishment, cannot create pessimism about the establishment, and cannot pit various groups of people against each other.