President Stresses Utilizing Iran, China Capacities to Bolster Bilateral Cooperation
February, 16, 2023 - 10:05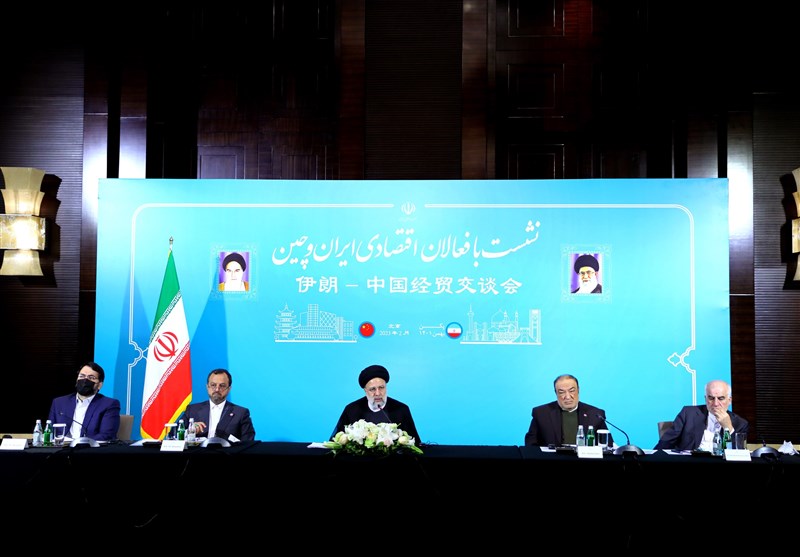 TEHRAN (Tasnim) – President Ebrahim Raisi underlined the need for utilizing the "untapped" potentials of Iran and China to strengthen bilateral cooperation.
"Iran considers China to be a reliable business partner and believes that the capacity of cooperation between the two countries can be used for the development of Iran," the Iranian president said on Wednesday in a meeting with representatives of major Chinese companies in Beijing.
Raisi, who was on a three-day visit to China -- the first state visit by an Iranian president in 20 years -- pointed to an agreement with his Chinese counterpart Xi Jinping on confronting unilateralism.
"With the good agreements reached during this trip, the companies of the two countries can take great steps to develop cooperation in various fields," he said, describing negotiations during his visit as "constructive".
"There are many untapped capacities in both countries, and both presidents emphasized using these capacities to further promote cooperation," he said.
Iran welcomes Chinese companies' investment in and technology sharing with Iran, he said, while also pointing to the economic and geostrategic capacities of Iran in trade with Central Asia, the Caucasus, and Europe.
Representatives of 10 Chinese companies as well as those of some Iranian companies active in China also addressed the meeting.
Meanwhile, the Iranian president's deputy chief of staff and head of the Iranian government's information council, Sepehr Khalaji, said the "important" meeting with Chinese companies was held to discuss cooperation in various fields.
"This meeting was held with senior managers of tens of Chinese companies active in the industry, mining, energy, and transportation for doing business with Iran, investing, and furthering macro projects in line with economic agreements," he tweeted.
Iran and China signed a landmark 25-year comprehensive strategic partnership agreement in March last year in defiance of unilateral sanctions against the two countries by the United States.
The deal officially documents the Sino-Iranian Comprehensive Strategic Partnership that had been announced during a visit by Chinese President Xi Jinping to Tehran in 2016. It sets the outlines of cooperation in political, cultural, security, defense, regional, and international domains for the next 25 years.
Mohammad Jamshidi, the president's deputy chief of staff for political affairs, said on Wednesday a new chapter for "cooperation" and "trust" has started between Iran and China.
"A new chapter for broad economic cooperation & political trust between Iran & China began," he wrote in a post on his Twitter account.
"Talks between the 2 Presidents led to big economic, trade, financial, transit & technology agreements," he said, adding, "Strategic global & regional changes plus constructive initiatives were discussed too."