78 Killed, 166 Wounded in Attacks Across Iraq
October, 06, 2013 - 11:26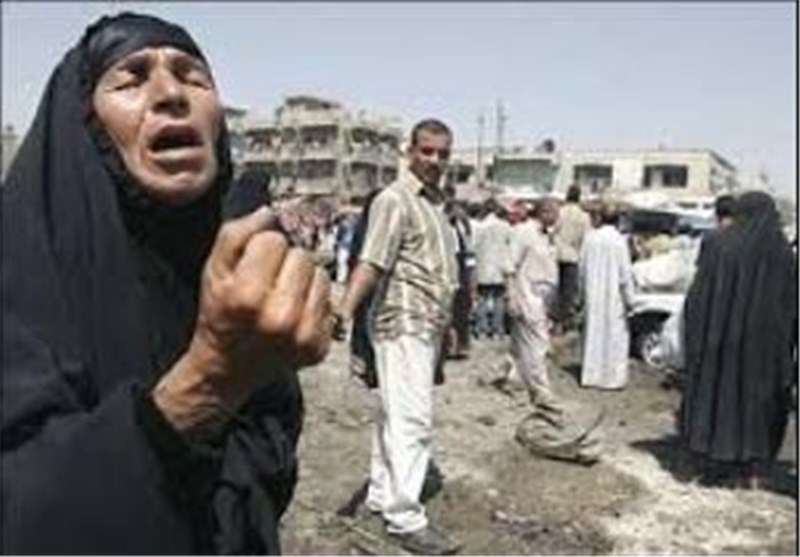 TEHRAN (Tasnim) - At least 78 people were killed and 166 others wounded in a wave of violent attacks across Iraq on Saturday, including a deadly suicide bombing targeting Shiite pilgrims in the capital city of Baghdad, the police and local media said.
At least 51 people were killed and 107 others wounded Saturday evening when a suicide bomber detonated his explosive vest near Shiite pilgrims in the Adhamiya area in northern Baghdad, a police source told Xinhua on condition of anonymity.
The pilgrims were on their way to the Al-Kadhimiya Mosque in the Kadhimiya neighborhood in northern Baghdad, he added.
Also on Saturday evening, at least 11 people were killed and 35 others wounded when a car bomb exploded near a popular cafe in the town of Balad, some 80 km north of Baghdad, another local police source told Xinhua.
One civilian was killed and 10 others wounded when a roadside bomb exploded near another cafe in the Baya area in southwestern Baghdad, the police source said, adding that a policeman were killed and two others wounded when a roadside bomb targeted police patrol in Mashahda, 30 km north of Baghdad.
In a separate attack, unidentified gunmen targeted a joint army and police checkpoint near Falluja, 50 km west of Baghdad, killing a soldier and a policeman on the spot and injuring three soldiers, police said.
In Iraq's northern city of Mosul, unidentified gunmen shot dead Mohammed Karim al-Badrani, a correspondent with al-Sharqiyah satellite channel, and his colleague Mohammed Ghanim, while they were interviewing local citizens in Sarj-Khana district in central Mosul, some 400 km north of Baghdad, a local police source said.
The Iraqi Journalists Syndicate, which condemned in a statement the assassination of the two journalists, said in its annual report earlier that more than 375 media workers have been killed in Iraq since the US-led invasion in 2003.
Separately, a roadside bomb went off at a checkpoint manned by government-backed Sahawa paramilitary group fighters in the town of Yousifiyah, some 25 km south of Baghdad, killing three group fighters and wounding four others, a local police source said.
Elsewhere, gunmen in a car fired at a Sahwa leader and his bodyguards in Zab area the city of Hawijah, some 220 km north of Baghdad, killing three of his bodyguards and wounding the leader, a local police source told Xinhua.
Iraq is witnessing its worst eruption of violence in recent years. The UN Assistance Mission for Iraq has said that almost 6,000 civilians were killed and over 14,000 others injured in Iraq from January to September this year.