Philippine Typhoon Survivors Begin to Rebuild
TEHRAN (Tasnim) - Survivors began rebuilding homes destroyed by one of the world's most powerful typhoons and emergency supplies flowed into ravaged Philippine islands, as the United Nations more than doubled its estimate of people made homeless to nearly two million.
November, 16, 2013 - 11:08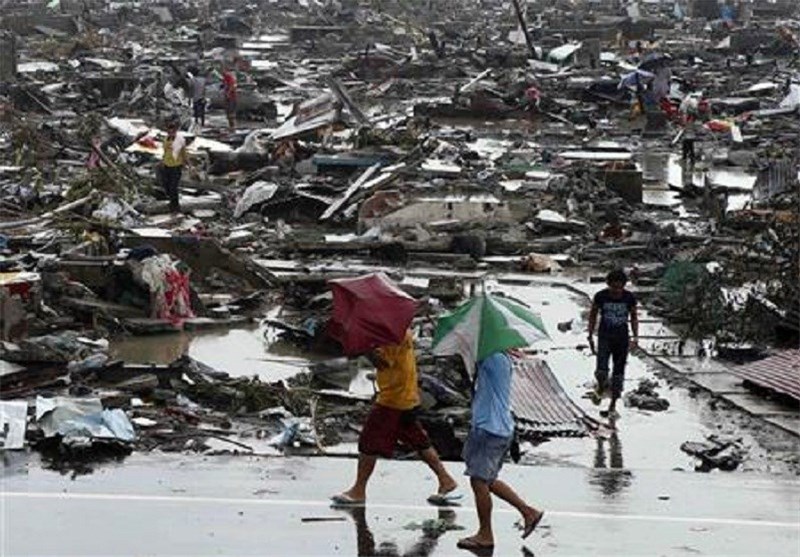 But the aid effort was still so patchy that bodies lay uncollected as rescuers tried to evacuate stricken communities on Saturday, more than a week after Typhoon Haiyan killed thousands with tree-snapping winds and tsunami-like waves.
After long delays, hundreds of international aid workers set up makeshift hospitals and trucked in supplies, while helicopters from a US aircraft carrier ferried medicine and water to remote, battered areas where some families have gone without food and clean water for days.
"We are very, very worried about millions of children," UN Children's Fund spokesman Marixie Mercado told reporters in Geneva.
A UN official said in a guarded compliment many countries had come forward to help, Reuters reported.
"The response from the international community has not been overwhelming compared to the magnitude of the disaster, but it has been very generous so far," Jens Laerke of the Office for the Coordination of Humanitarian Affairs told the Geneva news briefing.
Captain Victoriano Sambale, a military doctor who for the past week has treated patients in a room strewn with dirt and debris in Tacloban, which bore the brunt of the storm, said there had been a change in the pace in the response.
President Benigno Aquino, caught off guard by the scale of the disaster, is scheduled to visit typhoon-affected areas on Saturday. He has been criticized for the slow pace of aid distribution and unclear estimates of casualties, especially in Tacloban, capital of hardest-hit Leyte province.
The City Hall toll was the first public acknowledgement that the number of fatalities would likely far exceed an estimate given this week by Aquino, who said lives lost would be closer to 2,000 or 2,500.