Iranian Deputy FM Says Syrian Rebels Still Receiving Arms
TEHRAN (Tasnim) – Iran's Deputy Foreign Minister Hossein Amir-Abdollahian said in Moscow Tuesday that Syrian rebels are still receiving arms and munitions from abroad, which is a stumbling block in the way of peace efforts.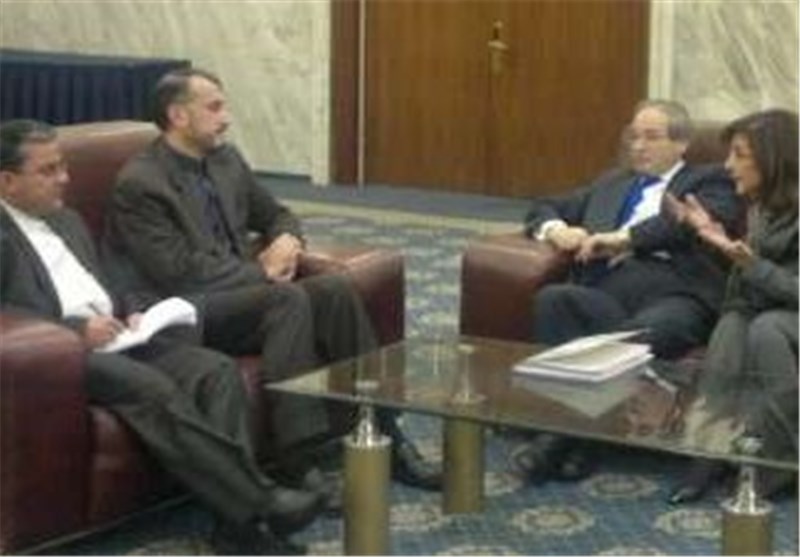 "Some countries keep on providing weapons for the extremist and terrorist forces in Syria," the deputy foreign minister in Arab and African affairs said in a press conference after a meeting with Russian officials and a visiting Syrian delegation.
The Iranian diplomat asked for immediate ceasing of arms provision for the rebels as a prerequisite for the success of the upcoming Geneva II talks and the peaceful resolution of the Syrian crisis.
Amir Abdollahian said as the international community is getting ready for holding a successful conference in Geneva, it seems the opposition forces are not quite ready for the event.
The Iranian, Russian and Syrian officials on Tuesday discussed ways to resolve Syrian crisis prior to the Geneva II conference. The Syrian delegation is headed by Deputy Foreign Minister Faisal al-Meqdad.
Bouthaina Shaaban, an advisor to the Syrian President Bashar al-Assad, is also a member of the Syrian delegation.
Amir-Abdollahian also said that the three sides had detailed discussions on ways to resolve the Syrian crisis.
Ways to cease violence in Syria and strengthen regional and international cooperation to ease the sufferings of the Syrian nation were major topics discussed in talks with Russian and Syrian officials, said the Iranian diplomat.
He said that while the extremist and the terrorist groups have waged a full-fledged civil war in Syria, the country is in dire need of a peaceful diplomatic solution.
The Syrian crisis should be settled based on negotiations held by various Syrian groups, Amir-Abdollahian reiterated.
Meqdad, for his part, referred to Iran as a strategic partnership with Syria. He stressed that all-out cooperation among the entire Syrian parties and groups is a must in the present critical juncture for putting an end to the ongoing crisis.
On Monday, Russian Deputy Foreign Minister Mikhail Bogdanov said Moscow regards Iran as its main partner in resolving the developments in the region, particularly the civil war in Syria, and that Russia welcomes exchange of views with Iran on regional issues and the Syrian crisis in particular.
The UN, US and Russia had been trying to convene the Geneva meeting by the end of November, although there are indications that it may not take place until at least next month.
The idea of a conference was first mooted in May, and in September UN Secretary General Ban Ki-moon announced a tentative date of mid-November after the Security Council passed a binding resolution on Syrian chemical weapons.