Army Commander Highlights Effect of Naval Might on Int'l Equations
TEHRAN (Tasnim) - Iranian Army Commander Major General Ataollah Salehi underlined the significant impacts a country's naval forces can make on international equations, and stated that Iran's navy enjoys such effective might.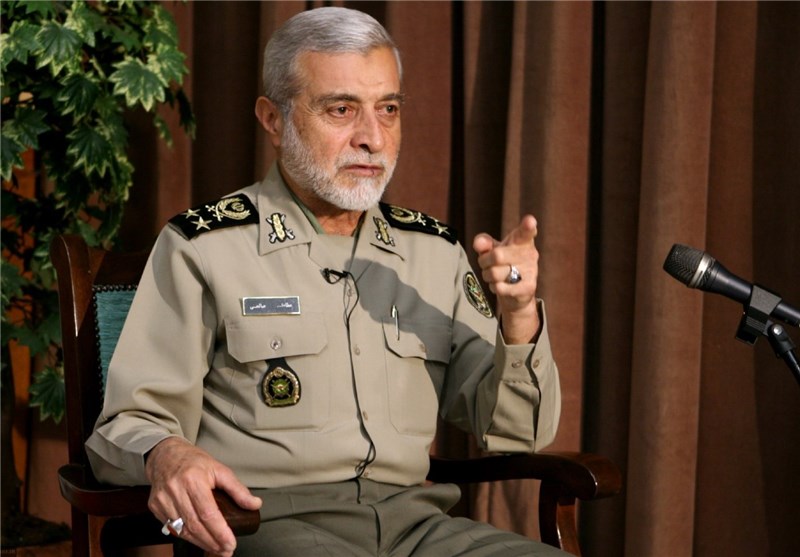 "Naval strength and maintaining naval dominance would affect political and international relations," Salehi said in meeting with a number of Iranian navy officials on Monday, held ahead of the National Navy Day, which falls on November 28 this year.
The high-ranking commander also added that Iranian naval forces enjoy the military might and dominance, but at the same time noted that such power would never spell threat against any country.
Referring to the Iranian naval forces as "the ambassadors of peace and friendship", Major General Salehi said the navy has kept the flag flying for the Islamic Republic in the high seas, from the Indian Ocean to the Red Sea and the Mediterranean Sea, as well as in the Pacific Ocean.
Salehi further touched on the significant role of the navy in securing the country's economy, saying naval forces are tasked with ensuring security of the country's trade cargoes and oil tankers in shipping routes.
In relevant remarks on Sunday, Supreme Leader of the Islamic Revolution Ayatollah Seyed Ali Khamenei emphasized the prominent role played by the Iranian Navy in the region, adding that current conditions across the region have further highlighted the significance of the country's naval forces.
"The navy is of great importance in terms of science and equipment, and also enjoys a special political and military position given the policies that dominate the region and the existing of threats," the Leader pointed out.
Ayatollah Khamenei also emphasized the need for further development of the navy, and added, "The fundamental objective of the navy should be to create and organize a military force in the level of the Iranian nation and the Islamic government's aspirations."
He went on to say that progress in the field of military hardware is not solely a sign of power, adding that manpower with strong resolve and courage is a contributing factor in military might.
In recent years, Iranian navy has made great headway in equipping its forces with the state-of-the-art equipment and has attained self-sufficiency in manufacturing a broad range of vessels and submarines.
Iran has repeatedly said its military might poses no threat to other countries, insisting that its defense doctrine is based on deterrence.