Commander Confident about Victory of Syrian Nation
TEHRAN (Tasnim) – Commander of Iran's Basij (volunteer) Force Brigadier General Mohammad Reza Naqdi on Thursday expressed certainty that the Syrian nation will emerge victorious from the crisis in their country, adding that the Zionist regime of Israel will be the big loser in Syria.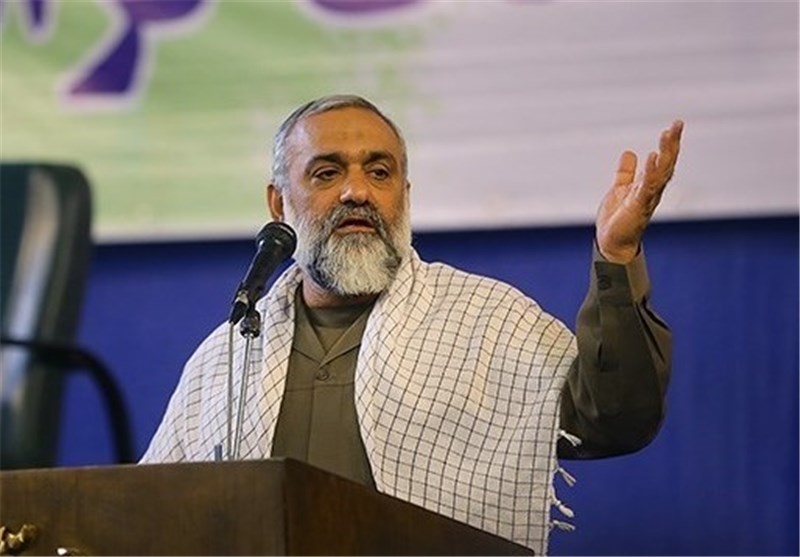 "Given the advancements made by the Syrian Army and the change in the battlefields in Syria, the Syrian nation will emerge victorious," Brigadier General Naqdi told the Tasnim News Agency in Iran's central city of Isfahan.
Highlighting the negative role played by the Zionist regime throughout the three-year crisis in Syria, Naqdi said the victory of the Syrian nation will result in the failure of the Zionist regime and its allies.
Meantime, the fourth day of the Geneva 2 peace negotiations was halted earlier than scheduled on Wednesday following a fierce exchange of accusations from both the opposition and the Syrian government over the alleged resumption of US military aid to the rebels.
The talks were cut short by the UN-Arab League mediator Lakhdar Brahimi following the morning session when the opposition delegation rejected an official complaint note presented by the Syrian government delegation criticizing the resumption of US aid.
"We believe this is not the best present to the Geneva conference," said Faisal al-Mikdad, Syria's deputy foreign minister, calling the American decision "another manifestation" of US support for "terrorist groups" in Syria.
"This proves again that the United States is not interested in the success of this process, and we believe the US has to desist and stop its claims that it is interested in the success of this conference," he told reporters following the meeting.
The statement of condemnation said that the US, by choosing to arm rebels, made a "provocative decision" in violation of the Security Council resolution no. 1371, as weapons supplied will end up in the hands of extremists such as al-Nusra Front and the Islamic Front.
The statement noted that the timing of this decision was truly surprising, as it serves "as a direct attempt to obstruct any political solution in Syria."