Ukraine's Government, Opposition Sign Peace Deal
TEHRAN (Tasnim) - In a fast-moving day that aimed to reshape Ukraine's political destiny, protest leaders and the beleaguered president agreed Friday to form a new government and hold an early election.
February, 22, 2014 - 11:26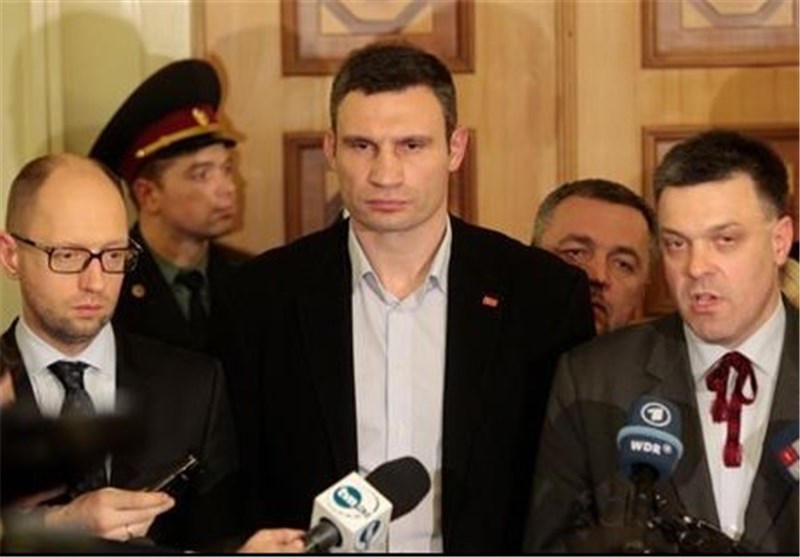 Ukrainian President Viktor Yanukovich and the foreign ministers of France, Germany and Poland signed an agreement to end three days of bloody violence between anti-government protesters and security forces.
The agreement included a commitment to early elections and a return to the country's 2004 constitution, which limited presidential powers. The Russian envoy did not sign the agreement.
The Ukrainian parliament also amended the penal code, a move that will see Yanukovich's rival, former Prime Minister Yulia Tymoshenko, freed from prison.
Members of parliament further voted to remove Interior Minister Vitaly Zakhartchenko, accused of having ordered police to open fire on protesters, from office, AFP reported.
Western leaders haled Friday's agreement and called on the Ukrainian government and opposition to "put words into deeds" and end months of political standoff. The White House said it was prepared to impose sanctions if the agreement was not kept.
Thousands gathered in Independence Square in central Kiev to mourn the deaths of at least 75 people killed in this week's violence.