Thai Government Supporters Vow to 'Deal with' Bangkok Protesters
TEHRAN (Tasnim) - Supporters of Thai Prime Minister Yingluck Shinawatra promised on Sunday to get tough with anti-government protesters paralyzing parts of Bangkok, raising tension in a protracted crisis hours after a deadly attack on a protest rally.
February, 23, 2014 - 15:14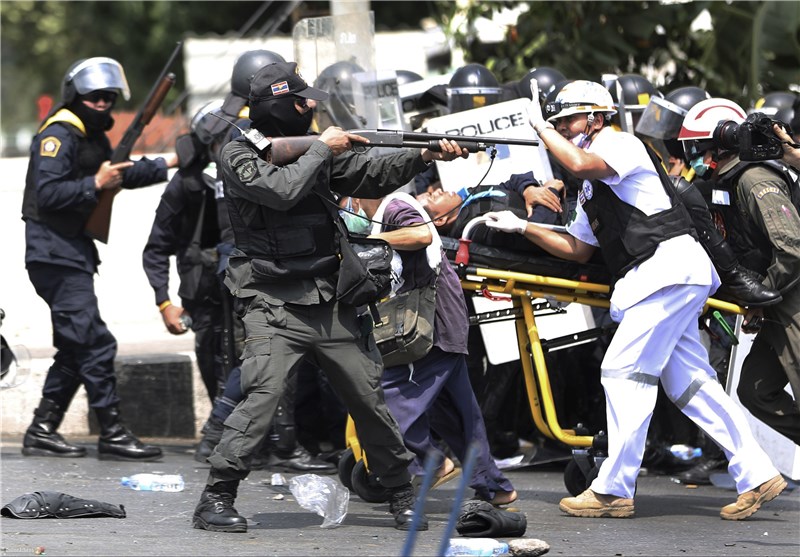 Leaders of the pro-government United Front for Democracy against Dictatorship (UDD) vowed to "deal with" anti-government leader Suthep Thaugsuban, setting the scene for a possible confrontation between pro- and anti-government groups.
"This fight will be harder than any other ... You must think how we can deal with Suthep and those supporting him," Jatuporn Prompan, a UDD leader and senior member of the ruling Puea Thai Party, told thousands of cheering supporters in Nakhon Ratchasima, northeast of the capital.
It was unclear whether Jatuporn was calling for an armed struggle, but he was speaking just hours after gunmen shot at an anti-government protest stage and threw explosive devices in the Khao Saming district of the eastern province of Trat, killing at least one person and wounding 41.
Police had earlier put the death toll at two, Reuters reported.
Anti-government protesters have blocked main Bangkok intersections for weeks with tents, tires and sandbags, seeking to unseat Yingluck and halt the influence of her billionaire brother, Thaksin Shinawatra, an ousted former premier regarded by many as the real power behind the government.
The protests are the biggest since deadly political unrest in 2010, when Thaksin's "red shirt" supporters paralyzed Bangkok in an attempt to remove a government led by the Democrat Party, now the opposition.
More than 90 people were killed and 2,000 wounded when Suthep, at the time a deputy prime minister, sent in troops.
Presenting a further headache for Yingluck, Thailand's anti-corruption body filed charges against her last week over a rice subsidy scheme that has left hundreds of farmers, her natural backers, unpaid.