US, Russia Agree to Push ahead with Syria Talks in New York
TEHRAN (Tasnim) - The United States and Russia on Tuesday agreed to plough on with efforts to halt Syria's civil war, with a fresh round of international crisis talks set for this week in New York.
December, 16, 2015 - 12:04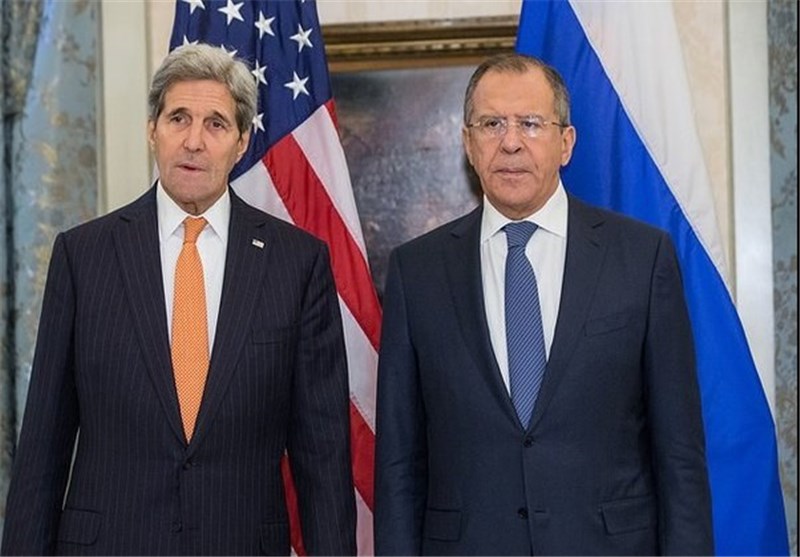 After a three-hour meeting in Moscow between Russian President Vladimir Putin and US Secretary of State John Kerry, the two sides appeared to be a step closer to each other's positions on Syria, though differences remained on the fate of President Bashar al-Assad.
"We support the idea of convening in New York another meeting of the International Syria Support Group at the ministerial level this Friday, December 18," Russian Foreign Minister Sergei Lavrov said after the talks, which also touched on counterterrorism and Ukraine.
He and Kerry said the New York negotiations would lead to a UN Security Council resolution to underpin the process aimed at brokering a ceasefire and political talks between Syrian President Bashar al- Assad's government and Syria's armed opposition.
"We discussed today in great detail the need to accelerate the effort," Washington's top diplomat said, as reported by AFP.
"You can't defeat Daesh without also de-escalating the fight in Syria," he said, using another name to refer to the Islamic State in Iraq and the Levant (ISIL) group.
In Washington, State Department spokesman John Kirby predicted "the same level of activity and energy" at the New York talks as in two previous rounds among the 17 nations involved in Vienna.
Kerry and Lavrov admitted differences remained between Washington and Moscow on Assad's fate, but stressed they would not let those ruin the political talks.
"What we have said is that we don't believe that Assad himself has the ability to lead the future Syria," Kerry said.
"But we focused today not on our differences about what can and can't be done immediately about Assad; we focused on the political process whereby Syrians will be making decisions about the future of Syria."
Washington is relying on the Kremlin to drag its ally Assad to the table for talks with his opponents.
Lavrov said the two countries agreed to intensify "our efforts in counterterrorism."
"ISIL, Jabhat Al-Nusra and other terrorist groups are common threats to every one of us and today we reiterated our determination to uproot this evil," he said.
Moscow has already taken issue with talks in Saudi capital Riyadh, saying that several terrorist groups had taken part in them.
US-Russia ties have also been strained over Ukraine, especially over US sanctions on Moscow, but the two sides have tried to bridge the gap on Syria.
"We don't seek to isolate Russia as a matter of policy," Kerry said.
"We have consistently said that the world is better off when Russia and the United States find common ground and an ability to be able to work together."