Scientists Develop New Bat-Inspired Flying Robot
February, 05, 2017 - 17:31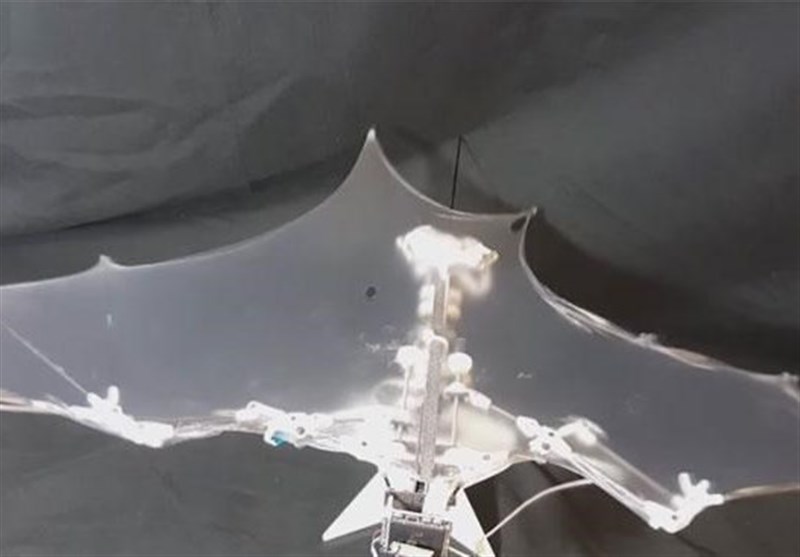 TEHRAN (Tasnim) – A new self-contained robotic bat with soft, articulated wings have been developed by scientists. The robot is capable of mimicking key flight mechanisms of the flying mammals.
Bats have long captured the imaginations of scientists and engineers with their unrivalled agility and maneuvering characteristics, achieved by functionally versatile dynamic wing conformations as well as more than forty active and passive joints on the wings.
However, their wing flexibility and complex wing kinematics pose significant technological challenges for robot modelling, design, and control.
"Our work demonstrates one of the most advanced designs to date of a self-contained flapping-winged aerial robot with bat morphology that is able to perform autonomous flight," said Alireza Ramezani, a researcher at the University of Illinoisat Urbana-Champaign in the US.
"It weighs only 93 grams, with dynamic wing articulations and wing conformations similar to those of biological bats," said Ramezani. "Our work introduces a design scheme to mimic the key flight mechanisms of biological bats," said Soon-Jo Chung, a research scientist at the NASA's Jet Propulsion Laboratory.
"There is no well-established methodology for reverse engineering the sophisticated locomotion of bats," Chung said. Arguably, bats have the most sophisticated powered flight mechanism among animals, as evidenced by the shape-changing capability of their wings, News Nation reported.
Their flight mechanism involves more than 40 types of joints that interlock the bones and muscles to one another creating a musculoskeletal system that can change shape and is capable of movement in multiple independent directions.
The robot - dubbed Bat Bot (B2) - utilizes a morphing skeleton array and a silicone-based membrane skin that enables the robot to change its articulated structure in mid-air without losing an effective and smooth aerodynamic surface.
"The B2 possesses a number of practical advantages over other aerial robots, such as quadrotors," said Chung. Bat-inspired aerial robots also bring significant improvements in energy efficiency over current aerial robots. This is due, at least in part, to their articulated soft wing architecture, and the fact that wing flexibility amplifies the motion of the robot's actuators. One potential application of B2 is to supervise construction sites.
"Keeping track of whether the building is being put together the right way at the right time is not trivial. So the bat bots would fly around, pay attention, and compare the building information model to the actual building that's being constructed," said Seth Hutchinson from University of Illinois.
Since the B2 does not use high-speed rotors that emit loud, high-frequency noise, it is significantly less intrusive than quadrotors or other aerial robots. The study was published in the journal Science Robotics.