Reciprocal Action against US on Agenda If IRGC Blacklisted: Commander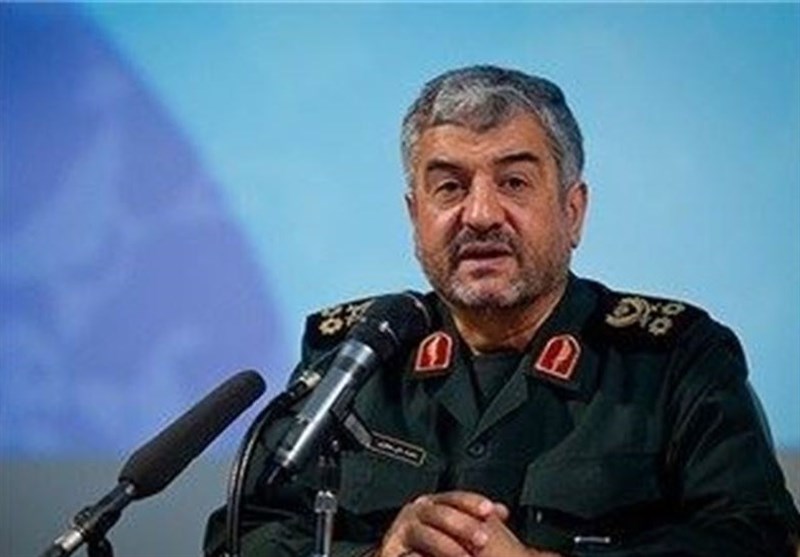 TEHRAN (Tasnim) – Commander of the Islamic Revolution Guards Corps (IRGC) Major General Mohammad Ali Jafari warned that the IRGC would put reciprocal action against the US forces on its agenda if Washington labels it as a "terrorist organization."
"If the Americans make such a silly move and endanger our national security, we will implement and put reciprocal measures on our agenda based on the policies of Iran's Islamic establishment," Major General Mohammad Ali Jafari said on Sunday.
He added that if the US designated the IRGC as a terrorist organization, the American army and security forces would not experience peace and calm in the Middle East anymore.
The administration of US President Donald Trump is expected to designate the IRGC as a foreign terrorist organization as early as next week, according to a US official.
The designation decision, formally under the State Department's purview, has been made as part of the White House's increasingly aggressive strategy towards Iran.
The US has already blacklisted dozens of entities and individuals affiliated with the IRGC, but not the entire force.
The IRGC, which has roughly 125,000 military personnel and enjoys growing public support, is also actively cooperating in construction, infrastructure and relief projects.
In a related development on Sunday, the majority of Iranian lawmakers expressed their full support for the country's Armed Forces, particularly the IRGC, pledging to respond in kind to any action taken by the US against the elite force.
In a statement read out at the Iranian Parliament, 255 lawmakers emphasized that the security of Iran and its Armed Forces are major red lines for the country's parliamentarians.
"In case of any measure by the US president or any other institution against the IRGC, we will start a double-urgency reciprocal measure, which will make the US leaders, who have been behind the formation of terrorist groups in the region and supported them, regret their stupid move," the Iranian lawmakers' statement said.
It added that the IRGC is one of the greatest achievements of the Iranian people, which has its roots in the Article 150 of the Iranian Constitution as a branch of the country's Armed Forces … and has helped regional governments and nations a great deal in the fight against terrorism.
Meanwhile, a senior Iranian lawmaker announced later on Sunday that the Iranian parliament has prepared a double-urgency motion to counteract a possible measure by the United States to put the IRGC on its blacklist of foreign terrorist organizations.
Chairman of National Security and Foreign Policy Commission of Iranian Parliament Heshmatollah Falahatpisheh told Tasnim, "We have prepared this double-urgency motion according to which as soon as this step is taken by America, we will put its military personnel on our blacklist of terrorist groups along with Daesh."
The MP added that all three major factions in the Iranian parliament support the motion, adding, "The IRGC has played a pivotal role in countering terrorism and by putting the IRGC on the list of terrorist groups, America has practically provided a service to terrorists."