Enemy's Hybrid Plots Foiled: IRGC Chief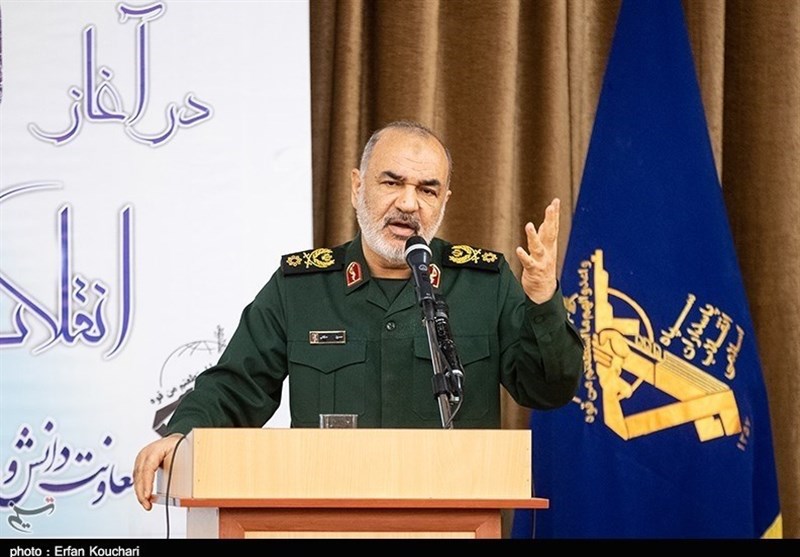 TEHRAN (Tasnim) – Commander of the Islamic Revolution Guards Corps (IRGC) Major General Hossein Salami said Iran has managed to thwart the enemy's "hybrid and complicated" plots.
In comments at the new commander of Basij's introduction ceremony on Thursday, the IRGC chief hailed the voluntary forces of Basij for creating a power balance in confrontation with the enemies.
The whole Iranians would be regarded as Basij forces when it comes to ideology and attitude, the commander noted, highlighting the Iranian nation's success to "crush the enemy's hybrid and complicated policies."
Major General Salami also noted that the enemy's plot to intimidate the Iranian nation into abandoning the resistance has backfired, and the enemies themselves are now afraid of a war with Iran.
In a speech on Wednesday, the IRGC commander said Iran's deterrence power has reached such a high level that has dismayed the enemies and has made them afraid of taking any military action.
The top commander also stressed the need for devising formulas for defeating the enemy's scenarios, adding that Iran's great deterrence power has neutralized the US psychological warfare.
Iranian military and political officials have repeatedly warned the White House rulers against the dire consequences of a military action against the Islamic Republic.
In comments in April 2018, Leader of the Islamic Revolution Ayatollah Seyed Ali Khamenei said the US is aware of the crushing response it will have to face in case of taking military action against Iran.
The era of hit and run is now over, and the US knows that if it gets entangled in military action against Iran, it will receive much harsher blows, Ayatollah Khamenei underlined.
The US is seeking a way to evade the costs of standing against Iran and place them on regional countries, the Leader said, reminding certain regional countries that if they confront Iran, "they will definitely suffer blows and defeat".