Leader Highlights Role of Education in Iran's Progress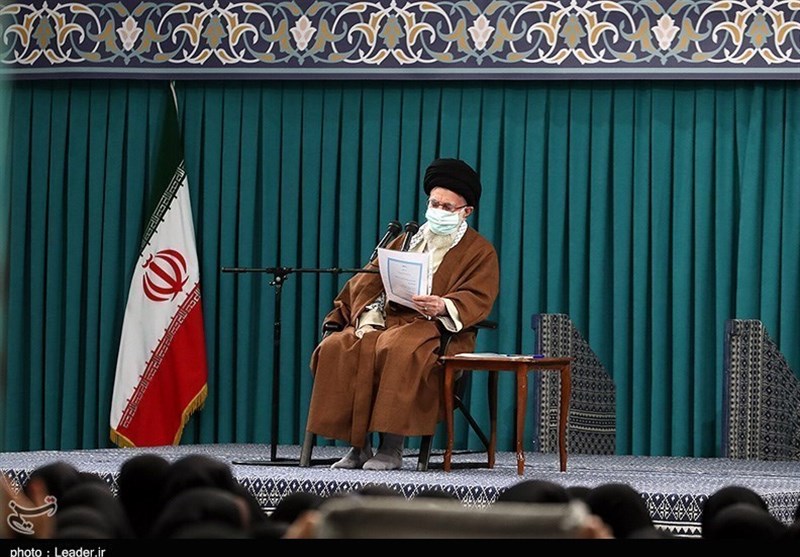 TEHRAN (Tasnim) – Emphasizing the pivotal role of education and training in the progress of Iran, Leader of the Islamic Revolution Ayatollah Seyed Ali Khamenei warned against the strategic mistake of underestimating the vital function of the Ministry of Education.
On the anniversary of the martyrdom of Ayatollah Morteza Motahhari, which marks the National Teachers' Week in Iran, a number of teachers from across the country met with Ayatollah Khamenei in Tehran on Tuesday.
In remarks at the meeting, the Leader considered teachers to be trainers of precious jewels, that is, the generation of teenagers and youngsters.
He also described teachers as the future architects of Iran, deeming them to be among the best and most noble groups in the country.
Ayatollah Khamenei also expressed his gratitude to teachers across the country because of their efforts.
"The value and importance of raising a generation that is knowledgeable, well-informed, intellectual and logical, pious, full of determination and possessors of Islamic ethics and national commitments, to build the future of the country, cannot be compared to anything else," he emphasized.
The Leader also honored the memory of Martyr Motahhari as a person who was the epitome of a "true and perfect teacher," advising teachers to make use of Martyr Motahhari's works, Khamenei.ir reported.
"Our dear teachers should raise the children of this nation in the same manner that they wish their own children to be raised, (that is,) as happy, proud, wise, educated individuals who display respectable behavior. This important matter will be realized not only through teaching, but also through the behavior and actions of teachers," the Leader stated.
Ayatollah Khamenei considered it essential to revive the feelings of an "Iranian-Islamic identity and national character" in the country's intelligent youth, adding that students should be correctly taught about the country's cultural, scientific and historical merits and records.
The Leader considered the comprehensive sense of responsibility of the government towards the community of teachers as a real necessity, underlining that "the livelihood of teachers is very important, but the problems that teachers have is not just limited to that. There is a wide range of issues which include skills training, experience training, and attending to the Farhangian (teacher training) University".
Ayatollah Khamenei considered it impossible to pass through the difficult stages of the country's comprehensive development without the role and help of the education system.
He also referred to the consensus of a number of experts regarding the central role that schools have in solving the country's problems.
"The solution lies in proper planning and serious efforts to reform schools, and all officials, decision-makers, and members of the public must understand the vital importance of the education system," the Leader added.
Ayatollah Khamenei criticized the country's Ministry of Education for its unstable management of affairs, saying, "A large organization like this will be harmed by the way it is continuously changing ministers, especially because such a change sometimes results in the change of deputies, middle managers and even school principals."
The Leader also underlined the need to adapt the structure, content and education curriculum to the needs of the country adding that the country needs skilled workers as much as it needs scholars and scientists