Cleric Lashes Out at Arrogant Powers for Divisive Plots against Muslims
TEHRAN (Tasnim) - Tehran's provisional Friday Prayers Leader Hojjatoleslam Kazem Seddiqi strongly criticized the global arrogant powers for creating rift among Muslim people.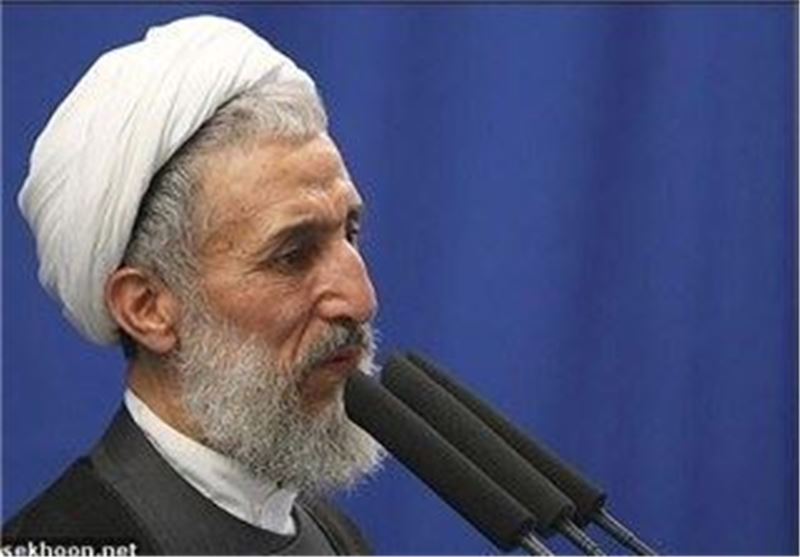 Addressing a large congregation of Iranian people here in Tehran today, Seddiqi lashed out at the foreign powers for masterminding plots against the Islamic world, and said, "Among their divisive measures are creating new cults and fueling sectarian strife and arming them (the new cults)."
He said the adversaries of Islam seek bloodletting in the Islamic world by spurring Muslims to fight against each other, so that the enemies could achieve their vicious purposes at a lower cost.
He pointed to developments in Muslims countries, including Yemen, Sudan, Pakistan and Egypt, and called on the Islamic states to learn lesson from the events in the Islamic countries and join hands together to hit final blow at enemies of Islam.
In relevant remarks on Wednesday, Iran's Judiciary chief cautioned against the growing threat posed by Takfiri (extremist) groups, and called on the country's intelligence ministry and the Islamic Revolution Guards Corps (IRGC) to keep close watch on those groups' possible infiltration into the country.
"Takfiri and Salafi streams have nothing to do with Islam and the beliefs of Sunni (Muslim) brothers, but they are sects fabricated by the West to undermine the Islamic societies," Ayatollah Sadeq Amoli Larijani said in a gathering of senior judicial authorities here in Tehran at the time.
He also warned against the menace of those vicious sects to the entire Muslim world, including the Islamic Republic, and added, "We call on the intelligence ministry and the IRGC to remain vigilant in the face of the danger of Takfiri streams' infiltration into the country."
Ayatollah Amoli Larijani further asked the Iranian intelligence bodies to take an appropriate response to the "anti-security nature" of the Takfiri groups.
The Judiciary chief then urged the whole Iranian Muslims, including the Sunni Muslims, to reject the Takfiri groups and prevent those dangerous sects from penetrating into the country.